Tips To Prepare Low Fat Burger
18 Nov 2011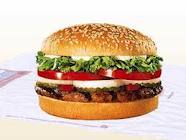 Big, fat, juicy burgers taste extremely delicious, but they do come with quite a few minuses like more fat and higher calories that can knock down your diet. However, with a few modifications and little ingenuity, you can turn unhealthy, high fat burgers into total health treats. Remember, cooking a low-fat burger starts with choosing the right ingredients. Just check out the below mentioned tips on how to prepare low fat burger and get going!
How To Prepare Low Fat Burger
Burgers carry the bad rep of being enormously high on fat. The best way to downplay the damage is to swap high-fat meat with low-fat ground varieties. Remember, the type of meat you choose could go a long way to minimize the final fat content of your burger. Ground beef and ground turkey are the two hot favorites when it comes to making low-fat burgers.  However, ensure that the ground beef you choose that is not more than 85% lean and the ground turkey is not more than 93% lean so that you can enjoy juicy, flavorful burgers that are not sapped out of any moisture.
How you cook your burger can also go a long way to determine the health content of it. Broiling and grilling are considered as the healthiest ways to prepare a burger as cooking over fire or under the grill causes the fat to drip away from the meat as it slowly gets cooked. If you choose to pan-fry your burger at all, opt for a non-stick skillet. Doing so, you would be slashing down the oil content during cooking and make your burgers more appeasing and less unhealthy.
Serve the burgers on hot rolls or whole-grain buns. Top it with fresh lettuce, tomatoes and onions and go low on condiments like mayonnaise and ketchup. If at all you need more mayo squeezed between your burger, opt for low fat, homemade variety. If you want cheese, choose a low-fat variety like reduced fat cheddar, skim milk, Monterey Jack or mozzarella.
Use these tips to prepare low fat burger at home the next time you crave for fast food and appease your tummy without running down your health.
Image Credits: ifood.tv 
Tips To Prepare Low Fat Burger