How To Cook Duck On A Gas Grill

16 Nov 2011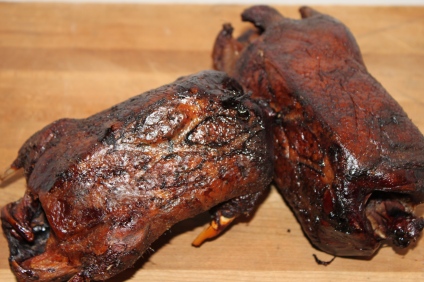 Ducks are best cooked on  gas grill placed  outdoors since this would keep the indoors from turning messy.  Duck meat has huge reserves of fat that can spoil the kitchen decor while grilling it in electric grills. Therefore, using an outdoor gas grill is highly recommended where duck meat is concerned. So, let us get the bird cleaned up and ready for the grill…
 Steps to Cook Duck on a Gas Grill
Remove giblets and fat reserves near neck and body cavities.                                                                                                           
Clean the duck. Wash the insides as well as the outside well. Pat dry using kitchen towels.
Using a fork prick the bird all over. This would allow the fat from the bird to ooze out and in the process make the skin crispy.
Prepare marinade and brush all over the meat.
Preheat gas grill to medium temperature. Duck meat tastes best when cooked slowly.
Place whole duck in the grill and secure with clips.
Place a drip pan right in the center of the grill under the duck.
Let cook covered for about 60 to 90 minutes.
Keep basting with the marinade every half hour.
Keep supervising the grilling since sometimes, the flames can flare up and burn the duck.
Make sure that duck is thoroughly cooked. Check with a meat thermometer. Ideally, the temperature inside duck on through cooking should be 175 degrees.
Remove duck from grill and cover with aluminum foil. The duck continues to cook until it reaches about 180 degrees.
Let duck cool for about 15 minutes prior to serving.
Tips to Grill Duck on Gas 
Cooking duck can be quite messy but when done outdoors, enjoying duck becomes more convenient.
Duck fat can catch fire hence do not leave grill unattended.
Make sure to remove excess fat reserves from inside the bird since this can burn the duck.
Cook duck on a gas grill and enjoy the delectable taste of grilled duck with friends and family.
Image credit: whenfoodworks.com/ ; bluestatebbq.wordpress.com/
How To Cook Duck On A Gas Grill