How To Cook Coconut On A Gas Grill

15 Nov 2011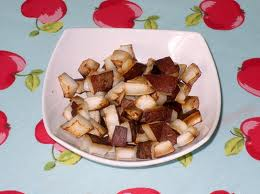 Opt for gas-grilled coconut as dessert when planning a tropical barbecue, They are easy to get done and taste awesome. The coconut acquires a sweet taste and the edges get a little  charred by gas grilling,. Serving cooked coconut would definitely be a healthier option than many other desserts. So lets us see how this can be done…
Steps to Cook Coconut on a Gas Grill
Cut open the coconut into halves.
These halves can be further cut into smaller pieces.
Clean the gas grill and preheat it to high temperature.
Place coconut pieces on the grill with white flesh facing the heat.
Let coconut cook for about 15 to 17 minutes.
The coconut flesh begins to attain a light brown color and this is how it gets grilled.
Once ready, remove from grill.
Using a knife or spoon, separate the flesh from the shell.
The grilled coconut flesh can be chopped up and made into dips, sauces, sorbet etc. A vegetable peeler can be used to make shaving or curls of grilled coconut that makes lovely garnish.
Watch the video for more information on grilling coconuts:
Tips to Grill Coconut Using a Gas Grill
Coconut shells have a tendency to crackle and burn on the grill. Hence, make sure that you don't get hurt.
Coconut is usually grilled without any marinade or seasoning. Once the flesh is removed from shell, it can be blended with green chilies, coriander leaves, salt, and pepper to make chutneys and dips.
Cook coconut on a gas grill for your next barbecue and surprise your friends with a tropical dessert.
Image credit: robluke.wordpress.com
Video credit: youtube.com
How To Cook Coconut On A Gas Grill