How To Cook Turnips On A Gas Grill

15 Nov 2011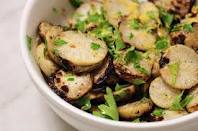 Gas grilling ideally complements the soft flavor of turnips. Turnips have to be seasoned lightly prior to grilling for acquiring a great taste. On being cooked, the exterior of turnips become slightly charred but the interior remains soft and tasty. These turnips make excellent side dishes or  can be chopped up and added to salads, sandwiches, and soups . So, let us get  the turnips grilling…
Steps to Cook Turnips on a Gas Grill
Scrape the turnip skin off and wash well under cool water.                                                                                                               
Cut off the stem end and slice them into rings or wedges as desired.
Make a marinade of lemon juice, cooking oil, pepper, minced garlic and coat the turnips in this. Keep aside for flavors to infuse for about 30 minutes.
Clean the gas grill and preheat it to medium temperature.
Place turnip pieces in the grill and let cook each side for about 4 minutes.
Turnips are ready when they become soft.
Let turnips cool for about 3 minutes before serving.
Turnips can also be placed on a grill pan and then put in the grill or alternately, they can be placed on aluminum foil over the grill.
Tips to Grill Turnips on Gas 
Turnips cook very quickly, taking only about 6 to 8 minutes on an average, hence make sure that you are there to supervise.
Do not overcook turnips since they get burnt and become unpalatable.
Grilled turnips can be stored in refrigerator and stored to be eaten the next day.
Do not forget to add cooking oil to turnip marinade since this is essential to make exterior of turnip crispy.
Cook turnips on a gas grill and enjoy its soft and mellowed taste by incorporating them in  various recipes.
Image credit: olymomma.com ; bbqesquire.wordpress.com 
How To Cook Turnips On A Gas Grill