Tips To Prepare Pumpkin Pie For Diabetics
9 Nov 2011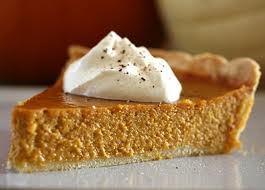 The holiday season can be a diabetic's worst nightmare given the fact that they have to forego favorites like pumpkin pies and candied fruits due to their exorbitant sugar content. Pies are especially a regular during festive season and saying 'no' to them might take quite some effort. However, with these tips on how to prepare pumpkin pie for diabetics, you can relish your favorite dessert without bothering about soaring sugar levels. It's indeed amazing how simple modifications can even turn a decadent pie into a diabetic-friendly sweet treat.
How To Prepare Pumpkin Pie For Diabetics
One easy way to make pumpkin pie more diabetic friendly is to replace the usual flour and butter crust with graham crackers since it packs in lower amount of fats and calories.
Also, substituting high fat ingredients like half- &-half, condensed milk, and cream cheese with low-fat alternatives like skim milk, low-fat cheese, or cream of tartar will drastically help cut down fat and sugar level from your pumpkin pie.
Cutting back on sugar will yield healthy, diabetic friendly pumpkin pie. Replacing refined sugar with artificial sweetener will not only slash the sugar content, but will also cut back on unwanted calories. Splenda works best for baked goodies. So go ahead, add a spoonful of Splenda to your pie mix, and revel in sugar-free pumpkin pie. You can also add a spoonful of honey to sweeten your pie if you can't stand the taste of artificial sweeteners.
If you are using whipped topping for pie, go for sugar-free version. This would be another great way to cut back on the sugar content of your pumpkin pie.
Contrary to what many people wrongly opine, pumpkin pie is actually good for diabetics since it contains two most potent diabetes-beaters that not only helps to lower sugar level but also boosts the secretion of body's natural insulin. So, go ahead and enjoy your pumpkin pie guilt-free this holiday season.
Image Credits: ifood.tv
Tips To Prepare Pumpkin Pie For Diabetics