How To Cook Acorn Squash On A Gas Grill

9 Nov 2011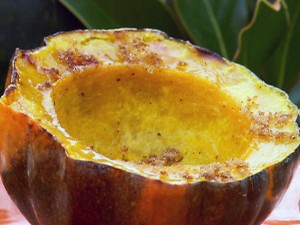 Acorn squash takes on a nutty flavor when grilled and winter is the best time of the year  to use a gas grill  to cook them. Acorn squash more popularly known as the winter squash is common during the cold season and grilling it is one of the best ways to enjoy its benefits as well as its sweet taste. Read on to learn how to cook it on the gas grill.
Steps to Cook Acorn Squash on a Gas Grill
Place the acorn squash on cutting board and cut it horizontally into two halves using a sharp and strong knife. Be very careful while cutting the squash since the green exterior peel can be quite hard.
Scoop out seeds and fibrous material from center of acorn squash halves using a spatula.
Brush cut edges of the squash with olive oil and season with salt, pepper, spices, and desired herbs.
Preheat gas grill to high temperature.
Place acorn squash on the grill with cut side facing up. Let cook at medium temperature over the flame for about 5 minutes.
Once the outer skins begin to brown, turn the squash over and grill for another 5 minutes.
Remove and cool before serving.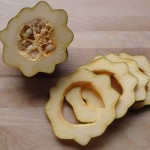 Instructions to Cook Acorn Squash Slices on a Gas Grill
Cook the whole acorn squash in the microwave just to soften it so that cutting through becomes easier.
Slice through squash and cut into ½-inch thick rings.
Remove the seeds.
Brush the sides with olive oil and season with ground pepper and salt.
Place in the grill over medium flame and grill for about 3 to 4 minutes. Flip and cook the other side too.
Acorn squash is ready when the slices are grilled a golden brown.
Tips to Cook Acorn Squash on the Gas Grill
Even though acorn squash can be grilled without the peel, keeping the peel on helps in maintaining shape of squash.
Buy very fresh squash and avoid ones with blemishes and damages.
Cook acorn squash on a gas grill and serve as side dish or appetizer!
Image credit: skylinefoodsource.com/ ;  whatlolitaeats.com/2010/09/20/ ; 
How To Cook Acorn Squash On A Gas Grill