How To Cook Cabbage On A Gas Grill

8 Nov 2011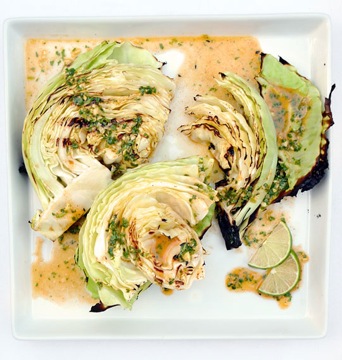 Ever thought of cooking cabbage on the gas grill. Grilled cabbage is delicious and can be served along with other grilled vegetables while planning a grilled vegetable platter. Grilling it in the right way involves preventing the leaves from getting burnt. A little bit of preparation prior to cooking on the grill is essential to ensure that cabbage leaves are safe. Let us see how to go about doing it.
Steps to Cook Cabbage on a Gas Grill
Remove some of the exterior leaves to expose the cabbage head.                                                                                                   
Wash the cabbage head well under cold running water.
Cut the head into halves and keep the core on since this would keep the leaves together during grilling.
The halves can be further cut into wedges of desired thickness.
Preheat the gas grill to high temperature.
Season cabbage wedges with salt, pepper, lemon juice, herbs, onion, garlic etc. Cabbage can be seasoned well since it is a very bland tasting vegetable. Brush cabbage well with olive oil.
Cabbage should be grilled over indirect heat and hence keep only half of the burners on. Direct heat might burn cabbage leaves.
Place cabbage directly on the grates or wrap in aluminum foil and place in the grill.
Cook covered for about 20 to 30 minutes.
Cabbage wedges would be ready when the leaves become tender.
Serve warm with butter and rolls.
Watch the video for more information on the same:
Tips to Cook Cabbage on the Grill
Do not slice the core off since the leaves would get separated making grilling difficult.
Do not leave grill unattended since cabbage leaves can be burnt.
Outer leaves may burn but these can be sacrificed for the delicious leaves inside.
Cook cabbage on a gas grill and surprise the kids with a delicious grilled cabbage recipe.
Image credit: eatityoullikeit.wordpress.com/ ; farmandafryingpan.com/
Video credit: youtube.com/
How To Cook Cabbage On A Gas Grill