How To Cook Carrot On A Gas Grill

8 Nov 2011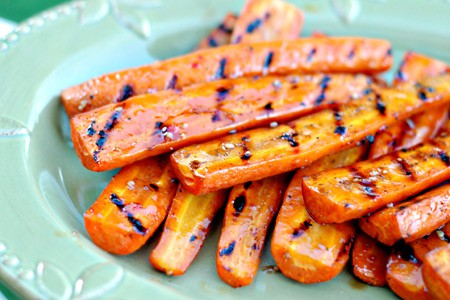 Wanna make your kid eat the juicy red carrots, try serving some grilled carrots for his/her snack. The crisp exterior with the sweet mushy interiors is hard for anybody to resist. If you feel setting up a traditional grill each time for preparing this dish is too much of bother, then try using a gas grill instead. It is not only hassle free but also prefect to cook root veggies. Carrots can be grilled whole, sliced, directly on the grill as well as wrapped in foil. Let us take a look at the perfect way of cooking carrots on a gas grill...
Steps to Cook Carrots 
Peel and clean carrots in cold water.
If desired, slice them lengthwise into halves or thirds. Carrots can be grilled whole too but they may take longer to get cooked.
Take some water in a pot and bring it to boil. Put in the carrot slices and let simmer for about 5 minutes, until they become tender. This step is optional but highly advisable since not parboiling carrots can increase grilling time by as much as 30 minutes.
Once parboiled, drizzle olive oil generously over the carrots and season using pepper, salt, and herbs.
Preheat grill to medium-high heat.
Place carrots in the grill and cook for about 10 minutes. Keep turning carrots intermittently to facilitate even cooking of carrots.
Alternately, carrots can be cut into chunky pieces can strung through skewers along with pepper and onions and then grilled. Carrot slices can also be grilled wrapped in aluminum foil. Take a large piece of foil, place the carrot slices in the middle of the foil, and wrap into a pouch. Now, keep this carrot pouch in the grill and cook for about 25 to 30 minutes.
Watch the video for more information:
Tips to Cook Carrot on a Gas Grill
Keep grill lid open while cooking carrots.
Keep near the grill while cooking carrots since they cook easily and might be burned if not monitored.
Clean grill very well and spray with non-stick cooking spray to keep carrots from sticking on to it.
Cook carrots on a gas grill and enjoy an easy side dish that even the kids would love.
Image credit: chiro-n-spice.com/
Video credit: youtube.com/
How To Cook Carrot On A Gas Grill