How To Cook Scallops On A Gas Grill

7 Nov 2011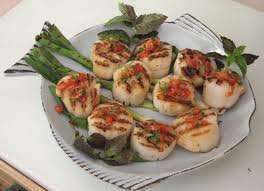 Planning to grill some scallops for dinner tonight? Make sure that all the steps are clear lest the scallops are charred. The secret of cooking scallops on a gas grill is to keep temperature high and finish cooking process as soon as possible. Grilled scallops are delicious and very often can be served as a lovely seafood main dish. Verify the steps for grilling scallops just right.
Steps to Cook Scallops on the Grill
Buy fresh scallops from the market.
If desired, the larger scallops can be halved or slit horizontally.
Clean grill and grates very well. Make sure there is no debris. Spray the grates with generous amounts of non-stick cooking spray.
Preheat grill to medium-high temperature.
Take wooden skewers and string the scallops on it.
Brush scallops with olive oil, vegetable oil, or any cooking oil.
Place them over direct heat in the grill.
Grill each side for about 2 minutes.
Keep turning the skewers while cooking.
Scallops turn opaque when cooked.
Remove and season with salt, pepper, and herbs.
Serve warm with melted butter and lemon wedges.
Watch the video for more information:
powered by ifood.tv
Tips to Cook Scallop on a Gas Grill
Make sure that the scallops are fresh. Stale seafood tastes bad.
Do not leave grill unattended since scallops are cooked quickly.
Scallops taste best when eaten warm.
Cook scallop on gas grill and enjoy its sweet taste. Scallops are considered to be one of the best protein sources and what better and easier way to enjoy this than grilling it.
Image credit: labofedibles.wordpress.com/
Video credit: ifood.tv/video/
How To Cook Scallops On A Gas Grill