How To Cook Tuna On A Gas Grill

4 Nov 2011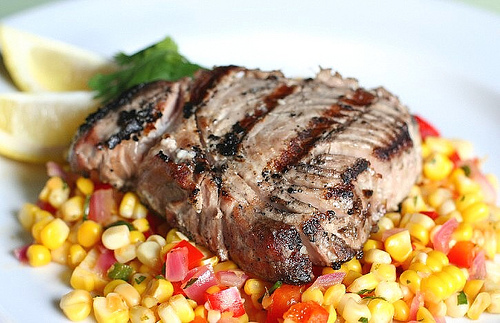 Grilling not only enhances the taste and flavor of tuna steaks, but also helps to retain all their nutritious elements. Gas grills work best for most seafoods including tuna. Don't know how to use a gas grill for cooking the fish? Read on to learn how to grill tuna.
Steps to Cook Tuna on a Gas Grill
Cut and clean tuna steaks.
Wash in cold water and pat dry using kitchen towels.                                                                                                                     
Marinate them or season them with salt, lemon juice, olive oil, pepper, and soya sauce.
Let marinate in refrigerator for 30 minutes.
Preheat grill to medium temperature.
Place the tuna steaks on the grill and cook covered for 10 minutes.
Flip over and cook for another 10 minutes.
Tuna steaks are ready to be served when the flesh flakes easily with a fork.
Add an Italian taste to grilled tuna by varying the marinade. Combine olive oil, basil, white vinegar, oregano, minced garlic, thyme, pepper, and salt to give an Italian touch to tuna. Do not forget to baste the fish with the remaining marinade while grilling.  
Watch the video for more information:
Tips to Cook Tuna on a Gas Grill
Keep fish refrigerated until ready to be used.
Tuna flesh would turn opaque and white in color once it is cooked and done.
Do not turn the fish too many times while grilling since this can cause the fish to come apart.
Cook tuna on the grill and learn a simple and delicious way to grill fresh tuna bought either from market or one that you just caught!
Image credit: abeautifulmosaic.wordpress.com/ ; cheatingcook.wordpress.com/
Video credit: youtube.com/
How To Cook Tuna On A Gas Grill