How To Cook Shrimp On A Gas Grill

4 Nov 2011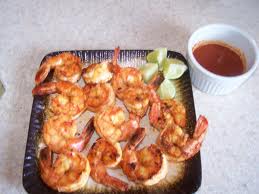 Planning to grill shrimp but not sure of where to begin?  Shrimps can be cooked easily using a gas gril at home. Just marinate the shrimps for some added flavors and turn on your grill for a delectable evening snack. Read on to learn more details on grilling shrimps.
Steps to Cook Shrimp Easily
Remove the shells and devein the shrimps.                                                                                                                                   
If using wooden skewers, soak them for half hour in water so that they do not burn while grilling.                                                  
String the shrimps on the skewer from the tail to the head.
Now marinate the shrimps. Soak the skewered shrimps in the marinade for about 30 minutes.
Clean the grill and preheat it to medium temperature.
Spray grates with nonstick cooking spray.
Place the skewered and marinated shrimps in the grill over direct heat.
Cook for about 1 to 2 minutes on one side. Now, turn over and cook the other side for about a minute.
Cut open the shrimps to check whether they are done.
Serve shrimps with rice.
Watch the video for more information:
Tips to Cook Shrimp on a Gas Grill
Grilling time for shrimps are very critical since over cooking will make the shrimps lose their texture and taste.
Do not use the marinate for basting while grilling shrimps.
Frozen shrimps are a safer alternative while planning to cook shrimps.
Cook shrimp on a gas grill and enjoy the most popular seafood in America without any hassle at home.
Image credit: yummy4tummy.wordpress.com/
Video credit: youtube.com/
How To Cook Shrimp On A Gas Grill