How To Cook Beet On A Gas Grill

4 Nov 2011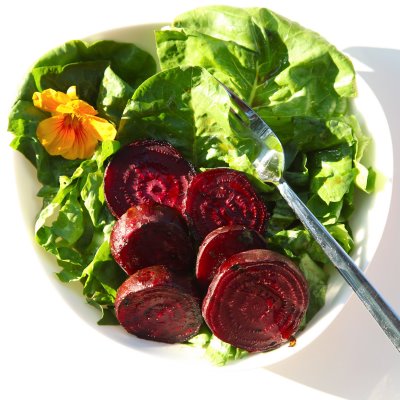 Wondering how to make your little one enjoy the earthy sweetness of beets, try serving him some grilled beet. The heat of the grill imparts a smoky flavor and coats the beet with a candied layer that takes the decadent sweetness of this nutritious root veggie to a totally another level. Gas grills offer a mess proof and easy option to prepare grilled beets anytime, anywhere. Read on to learn how to cook beet on a gas grill and include it in the grilled vegetable platter.
Steps to Cook Beet on the Gas Grill
Preheat the grill to medium-high temperature.                                                                                                                                       
Peel the beet and slice it into rings of about 1 inch thickness.
Season sliced beet with salt, pepper and brush both sides with olive or vegetable oil.
Place the beet slices on the grill and let grill covered for about 10 to 12 minutes.
Beets are grilled and ready when beets become tender and are marked by the grill.
Serve warm, grilled beets drizzled with olive oil, or toasted walnut oil.
Watch the video for more information:
Tips to Cook Beet on a Gas Grill
Beet can be grilled after blanching it too. This facilitates even grilling and even locks in optimum flavor.
Blanched beet takes less time to be grilled.
Marinate beets for half hour for more pronounced flavors after grilling.
Beets can be grilled in vegetable grids or grill basket.
Cook beet on a gas grill just like any other vegetable or fruit. Try grilled beet recipes on guests and surprise them.
Image credit: carletongarden.blogspot.com/ ; the10centdiet.blogspot.com/
Video credit: youtube.com/
How To Cook Beet On A Gas Grill