Tips To Prepare Low Fat Cupcake
4 Nov 2011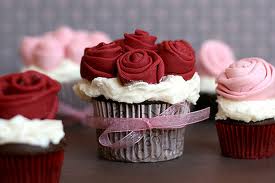 If you are looking to cut down fat, sugar and sweets from your diet, then cupcakes are completely no-no. No matter how petite and frivolous they are, even the bite-size cake can be quite  heavy on  butter, sugar, cream, chocolate or cream cheese. To avoid ruining your diet with a pint-sized dessert, pick a recipe that uses light ingredients, go easy when applying frosting and keep portion sizes in check. There are healthy alternatives you can use when baking cupcakes to ensure you and your family can enjoy them, guilt-free. Trail these tips on how to prepare low fat cupcake for healthy alternatives and get started.
How To Prepare Low Fat Cupcake
One simple way to slash down fat content and make your cupcakes all the more healthy is to substitute white flour with whole-wheat flour. Doing so won't just boost the protein and fiber content of your cupcake, but will also spike up its nutrition content, as opposed to white flour which is notorious for its starchy fat content and bad protein. However, be careful with your measurements as whole wheat flour will yield heavy cupcakes.
Another way to drastically cut down the fat is to substitute sugar with artificial sweeteners for some or all of the sugar in the recipe. Using stevia or xylitol, would be excellent alternatives to regular cane sugar, which is ill-famed for its high-caloric content and can be very, very fattening.
A great way to make your cupcakes all the more diet-friendly is to can substitute the fat with any kind of fruit puree. Some of the best alternatives include very ripe mashed bananas, prune puree, applesauce, or pumpkin puree. Substitute whatever quantity of oil is called for with an equal amount of fruit puree. However, if you aren't  a big fan of fruity flavor,  then using half  oil and half fruit puree would suffice.
One of the worst ways to make cup-cakes unhealthy is to top it with a rich frosting. Agreed, frosting adds to prettify the cupcake. However, if you wish to cut down on unnecessary fat, then giving the frosting a skip would be a wise choice. If you need to use it at all, go for low-fat cream cheese instead of full-fat variety. If you want a buttercream frosting, just opt for reduced fat butter. If you are game for some ganache, opt for light whipping cream or half-and-half. You can also add a dollop of fresh fruit puree to make a yummy, nutritious topping.
Follow these tips when baking cupcakes at home next time and revel in light, low-fat nutritious cupcake.
Image Credit:rawsilkandsaffron.wordpress.com
Tips To Prepare Low Fat Cupcake