Tips To Prepare Low Fat Lasagna
4 Nov 2011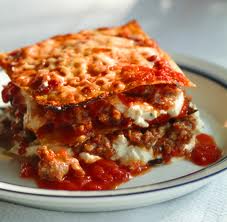 Who doesn't love lasagna — a baked Italian delight comprising of layers and layers of meat or veggies, cheese, and gobs of ketchup; however, this yummy favorite is chock-a-block with fattening ingredients that can topple your healthy eating habits.  Nevertheless, you can perk up the nutrition quotient of this dish with low-fat ingredients. Result — you will have lasagna that is similar in taste, but low in unhealthy fat.  Trail the tips on how to prepare low fat lasagna for more healthy ideas.
How To Prepare Low Fat Lasagna
If you love your lasagna with noodles, then substituting instant noodles with whole grains noodles will make all the difference, as far as the fat content is concerned. 
Replacing  any type of meat with loads of leafy greens and high fiber vegetables like carrots, broccoli, cauliflower, cabbage, mushrooms, cottage cheese etc, will not only make your lasagna low on fat and more appeasing to the taste buds, but will also cut down on fat absorption.
Another way to cut down fat content in your lasagna is to cut down the sodium consumption. Salt helps the body to retain more water than necessary, thereby leading to weight gain.
Lasagna without tomato sauce would be like beer without the fizz. However, store bought tomato sauce can pack in quite a fat punch. In that case, substituting store bought ketchup with homemade sauce devoid of sugar will not only enhance the taste, but also slash down the fat content of you lasagna.
It is important to choose your cheese with care when making lasagna. When making lasagna at home, avoid using processed cheese or sliced cheeses as they contain loads of other fattening additives. Opt for low fat cheese.
With these healthy tips, you can turn your fattening lasgana into a healthy delight.
Image Credits: datingafter40okayhopingtodateafter40.blogspot.com
Tips To Prepare Low Fat Lasagna