How To Cook Mushroom On A Gas Grill

3 Nov 2011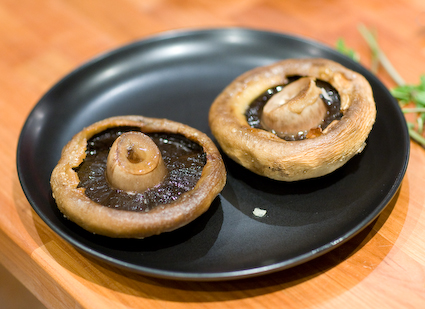 Mushrooms taste amazing when cooked on a grill and served with grilled steaks, chicken, or fish. Since, mushrooms are quick to cook, gas grills with their easy heat controls work the best. Let us check out how to go about grilling mushrooms like a pro.
Instructions to Grill Mushrooms on a Gas Grill like a Professional
Mushrooms tend to dry out soon on the gill and the secret to keeping them moist is to marinate them for at least an hour in extra virgin
olive oil prior to grilling.
Clean mushrooms in cold water.
Place mushrooms in a heavy-duty sealable bag.
Add enough oil to coat mushrooms well. 3 ounces of olive oil will coat 1 pound of mushrooms generously.
Let mushrooms marinate for over one hour in the refrigerator.
Preheat grill to medium temperature.
Take mushrooms out of the bag and place them in the grill.
Grill for about 10 to 15 minutes, until mushrooms turn golden brown in color.
Grilled mushrooms are ready to be served.
Watch the video for more information:
Tips to Cook Mushroom on a Gas Grill
Use only extra virgin olive oil to marinate mushrooms for improved flavor.
Mushroom surface would absorb olive oil and this lock in the moisture and prevent drying while grilling.
Take only enough oil to coat mushrooms and there is no need to submerge them in the oil.
Cook mushrooms on a gas grill and enjoy crisp yet soft delicious mushrooms for lunch or dinner this New Year.
Image credit: homecookedspecials.wordpress.com/ ; nestleusa.wordpress.com/
Video credit: youtube.com/
How To Cook Mushroom On A Gas Grill