Tips To Prepare Low Fat Salads
1 Nov 2011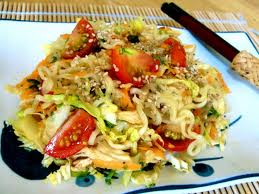 Knowing how to put together low-fat salads can do wonders for your health and diet. The trick is to use low-fat ingredients and dressing to keep unnecessary pounds from piling in. Believe it or not, even the most simplest of salads, be it pasta, fruit or any green based salad, can be fattening if the ingredients used are high on fat and calories. To avoid that, swap high fat condiments and toppings with low fat options. That should save you from unnecessarily chomping on mayonnaise or cream based dessert that can do more harm than good to you. Below stated are some expert tips on how to prepare low fat salads that should help you pick the right ingredients the next time you are tossing a salad.
How To Prepare Low Fat Salads
If you are looking to make a low-fat meal out of your salad, then piling it on with leafy greens like lettuce, mustard, and spinach leaves will help. You can also load up your salads with plain veggies to ensure that you draw 100% nutrient from your salad and nothing else. Resist your temptation of adding deep-friend croutons, marinade, mayonnaise, and sauce as they offer no nutritional value and only help to raise the fat and calorie quotient of your salads.
Skipping the high-fat meaty chunks and replacing them with hearty scoops of lean protein might make all the difference to your weight and healthy eating habits. Stay away from adding saltines, fried, or anything served in sauce. If you want to add meat to your salad, opt for healthy, low-fat options like grilled chicken, hard boiled eggs (go for egg whites when available), shrimp, wild salmon, canned light tuna, low-fat cottage cheese, black beans, and chickpeas.
While you may be heavily tempted to spike up your salads with sunflower seeds, walnuts, raisins, and dried nuts, know that they pack in quite a 'fat' punch to your salads. Other ingredients to watch out for are Chinese noodles, shredded cheddar cheese, Feta cheese, walnuts, granola, olives, and avocado.
Another way to slash down the high fat content is to go easy on dressing, as they are always high on needless calories and fats.  Stay away from the tub of mayo and say 'no' to ranch dressing, no matter how irresistible you may find it, if you wish to slash the calorie content of your salad.
Remember these tips the next time you are tossing a salad to ensure that you don't stuff with needless calorie and high fat ingredients.
Image Credits: cookingwithaurora.com
Tips To Prepare Low Fat Salads