Tips To Prepare Low Fat Cheesecake
1 Nov 2011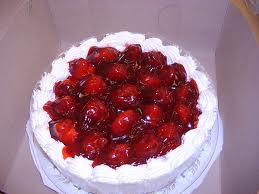 If you think that cheesecake and low fat are two irreconcilable terms, think again! Agreed this decadent dessert packs in a whopping 'fat' punch and borders into the sinful range. However, preparing them at home gives you the liberty to cut down on not-so-healthy fat  laden ingredients like cheese, cream, and shortenings and replace them with healthy alternatives of your choice. Result is a delightfully light, low fat cheesecake that you can enjoy without guilt. Pick your cues from these tips to prepare low fat cheesecake and get preparing some low-fat luscious delight at home.
How To Prepare Low Fat Cheesecake
Cheesecake is incomplete without dollops of soft cheese. However, to lighten up this classic dessert, swap regular, full-fat cream cheese with fat-free or low-fat cream cheese. You can also mix the two and use it as a substitute for regular cream cheese to cut back on the fat.
Nothing beats the delight of gorging into cheesecake made with graham cracker crust. For lighter and healthier choice, use low-fat graham crackers in lieu of the regular ones to further slim down your cheesecake.
Homemade cheesecake can be topped using whipped cream prepared from nonfat milk. The trick is to stave away from heavy whipped cream so as to not to pile up your cheesecake with unwanted fats. Also, steer clear of imitation dessert toppings that more often than not comes packed with hydrogenated oils and can unncessarily add to the fat quotient of your dessert.
To further trim down the fat content in your cheesecake, skip the canned fruit or sugary fruit glaze and opt for fresh fruits like strawberries. Using fresh fruit topping won't just pump up the nutritional value of your cheesecake, but also provide additional nutritional benefits like vitamins and dietary fiber.
Next time when you are preparing cheesecake at home, pay heed to the following tips given above and whip for yourself a delicious, nutritious dessert delight.
Image Credits: ifood.tv
Tips To Prepare Low Fat Cheesecake