How To Cook Sweet Potato On A Gas Grill

1 Nov 2011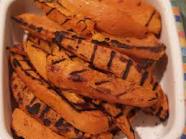 Cooking sweet potato over gas grill cooks it very quickly and softens the flesh of this tuberous vegetable. Since grilling involves cooking over direct heat, time required to cook sweet potato is relatively less. Let us learn to grill this relative of potato perfectly.
Steps to Cook Sweet Potato
Wash and clean sweet potato well.                                                                                                                                                      
Slice them into pieces of ½ or ¾ inches.
Fill a pot with water and bring it to boil.
Add in the sweet potato slices and let simmer until they are parboiled.
Drain them in a colander once they are soft.
Season the slices with desired spices and brush them with olive oil.
Preheat grill to medium-high temperature.
Place seasoned sweet potato slices in aluminum foil and wrap.
Place these packets on the heated grill.
Grill with the lid closed for about 15 to 20 minutes.
Tips to Cook Sweet Potato on a Gas Grill
Sweet potato slices can be placed directly on the grill too. This method would impart a smoky flavor to the tuber.
Sweet potato can also be grilled without the skin.
Do not completely cook sweet potato while parboiling.
Cook sweet potato on the gas grill and enjoy starchy sweetness of the tuber. Grilled sweet potatoes are soft and delicious.
Image credit: tryityoumightlikeit.wordpress.com/ ; oddduckblog.com/ ; strandedwithsugar.wordpress.com/
How To Cook Sweet Potato On A Gas Grill