How To Cook Bacon On A Gas Grill

31 Oct 2011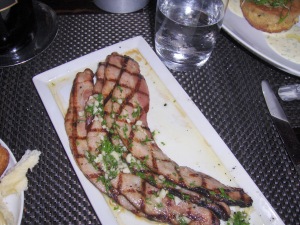 Gas grill is ideal for cooking bacon, especially if there is a large crowd to feed! These grills offer a wider surface area to cook a larger amount of bacon. Moreover, gas grilled bacon are less greasy than their other counterparts. Grilling outdoors even saves the work having to clean up vessels and pan later on. Let us see how to cook bacon perfectly on a gas grill outdoors…
Steps to Cook Bacon On A Gas Grill Outdoors
Preheat the grill to 300 - 350 degrees F.                                                                                                                                            
Place the bacon on the bacon slices perpendicular to the direction of grates.
Do not let the bacon slices overlap.
Every 5 minutes, turn over bacon slices with tongs.
Continue to grill bacon for about 20 minutes.
Bacon is done when they turn crisp or darker in color.
Serve hot bacon on a warm serving platter.
Watch How to Cook Bacon
Tips to Cook Bacon
When bacon fat drips into the flames, flare-ups occur. Keep water at hand and spray it to keep flames under control.
Once bacon begins to curl, shift the bacon onto the side of indirect heat.
Thick-cut bacon slices may take longer to get cooked, about 30 minutes.
Do not leave bacon on the grill without supervision for best bacon, instead of burned bacon.
Cook bacon on a gas grill for crispy and chewy bacon. Grilled bacon can be served with eggs or hamburgers.
Image credit: everydaygrilling.wordpress.com/
petersfoodadventure.wordpress.com/
Video credit: youtube.com/
How To Cook Bacon On A Gas Grill