How To Cook Asparagus On A Gas Grill

28 Oct 2011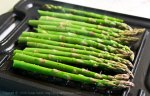 Planning on having an outdoor grilling picnic with friends and family? Do not forget some asparagus. Grilled asparagus is easy to make and can accompany grilled meat or fish dishes rather well. Grill asparagus with desired dried or fresh herbs and enjoy its health benefits too. Let us see how to grill asparagus on a gas grill…
Instructions to Cook Asparagus On a Gas Grill
Wash asparagus very well and trim the woody ends.
Place the trimmed asparagus in a plastic bag and add in some extra-virgin olive oil, sea salt, ground pepper, minced garlic, and rosemary sprigs. Mix well to coat the asparagus with the seasonings.
Lay out the asparagus on aluminum foil that has been sprayed with non-stick cooking spray.
Now place the aluminum foil on the grill rack.
Grill asparagus for 8 to 10 minutes.
Asparagus can be removed from gas grill based on how crunchy they should be.
Watch how to grill asparagus:
Tips to Cook Asparagus
Use tongs to turn asparagus while grilling.
Asparagus may roll around on the grate or even slip in-between the cracks, so keep a look out while grilling them.
Make sure to place the asparagus away from direct heat while grilling.
Cool before serving.
Cook asparagus on a gas grill and serve it other dishes. Be generous with the butter where grilled asparagus is concerned.
Image credit: wetwilley.wordpress.com/ 
Video credit: youtube.com/
How To Cook Asparagus On A Gas Grill