How To Cook Whole Shrimp

21 Oct 2011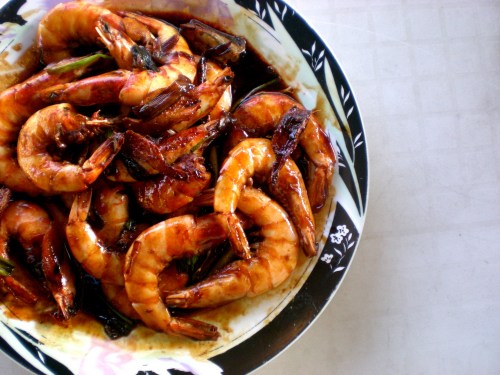 Love shrimps, and want to know easy ways to cook them? Boiling or poaching shrimps is the most common way to cook them whole. However, shrimps can be cooked in a variety of ways. They can be grilled, fried, barbecued, baked, and even steamed. Outlined below are the simple steps to follow while cooking whole shrimps.
Steps to Cook Whole Shrimp
Shell and devein shrimps.                                                                                                                                                               
Take a pot and fill it with water. Add in salt and lemon juice.
Let water boil and then add in the shrimps.
Switch off the heat and keep pot covered with a tight fitting lid.
Shrimps are done when the meat becomes opaque in color.
While frying shrimps, add the cleaned and deveined shrimps into a frying pan containing cooking oil. Stir and fry in oil until shrimps are done. Similarly, grilling and barbecuing of whole shrimps take only a few
Tips to Follow While Cooking Whole Shrimps
Never overcook shrimps since they lose their texture and taste.
It is always better to cook shrimps in their shells since this protects the delicate meat.
Shrimps do not take much time to be cooked. The small ones are cooked in 2 to 3 minutes while larger ones would take only about 5 to 6 minutes.
Tips To Cook Shrimp
powered by ifood.tv
Shrimps are a favorite with most people and the ease of cooking it makes it the best seafood to have at hand for inclusion in a variety of recipes.
Image credit: thespinningplate.com/ ; bethsjourney.com/ ; 4peatssake.wordpress.com/
How To Cook Whole Shrimp