How To Cook Whole Artichoke

20 Oct 2011
Art
ichokes can be enjoyed whole, when boiled or steamed. Steaming whole artichokes, helps retain all nutrients and hence the preferred method of cooking these delights. Read on to know the various ways of cooking whole artichokes...
Steps to Steam Whole Artichokes 
Cut away about one inch from top and bottom of artichoke. Remove a couple of outer leaves too if desired.                                   
Into a steamer, add some lemon wedges or lemon juice. Pour in about an inch of water. Let water boil.
Put in the artichokes and cover with the lid.
Let cook for 25 to 40 minutes.
Check if artichokes are cooked by cutting into the base. Soft base and inside leaves coming off easily are indicative of artichokes being ready for consumption.
Let artichokes drain on kitchen towels and serve.
Artichokes can be pressure cooked too. This takes only about 15 minutes. To improve flavor, garlic can be added to the water in the steamer or cooker.
Steps for Boiling Artichokes Whole  
Boiling is one of the easiest ways to cook artichokes whole. They can be boiled plain or stuffed too.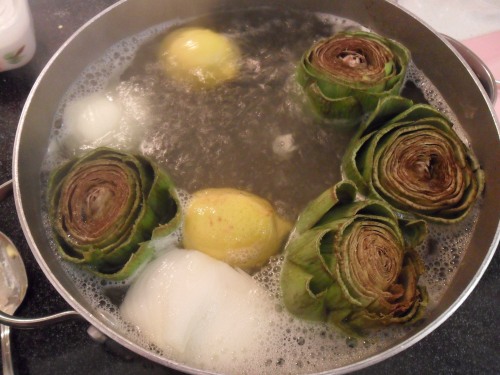 Cut the base off as well as some of the tough outer leaves.
Rinse and pat dry artichokes.
Squeeze lemons over them to prevent discoloration of artichokes.
Take a large pot or even a Dutch oven and add an inch of salted water in it.
Add some garlic and olive oil to the pot into the water.
Let water come to rolling boil.
Put in the artichokes and let water simmer for about 40 to 45 minutes.
Once done, let artichokes cool and then serve.
Cook artichokes whole and include it in your feast this holiday season.
Image credit: collectingtokens.wordpress.com/ ; pleasepassthetofu.com/ ; sustainivore.wordpress.com/
Video credit: youtube.com/ 
How To Cook Whole Artichoke