How To Cook Whole Duck

18 Oct 2011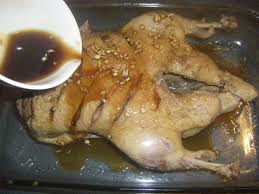 Want to cook duck whole, but do not know where to get started? Help is at hand. Even though whole duck can be roasted, baked, and grilled, slow cooking it in the cooker  allows the duck meat to be used in a number of ways. Duck meat is very rich and should be served with foods like turnips, potatoes, cabbage etc to balance the richness. Let us examine the method to cook whole duck in a slow cooker.
Steps to Cook Whole Duck in Slow Cooker
Clean the duck well. Trim the fat and remove giblet. Duck fat can be stored for use later if desired.                                                  
Pat dry duck inside out and season with salt, thyme, rosemary, and pepper. Place lemons, oranges, onions or cut apples inside duck cavity for a pleasant aroma.
To give the duck a roasted appearance, place it breast side down on a nonstick pan and let the bird brown. The duck may be kept in the oven too for browning once cooking is done.
Place duck on layers of cheesecloth since this would make getting the bird out of cooker easier. Duck meat tends to fall off the bones once slow cooked and the cheesecloth would make sure that the meat is intact when brought out.
Place large pieces of vegetables like carrots, onions, and celery at the bottom of the cooker.
Place the duck breast side up on a rack inside the cooker. Make sure to fork the breast at many places to allow fat to escape.
Cook duck slowly for about 3 to 4 hours on high heat or for about 6 to 7 hours at low heat. Ideally when done, duck breast temperature should be 185 degrees F.
The accumulated duck fat can be skimmed off from the cooker intermittently.
Lift duck out when done and place in oven for 15 minutes at 425 degrees F. This would make duck skin crispy.
Carve and serve duck meat with desired dipping sauce.
Roasting A Duck Whole 
The video demostrates how to roast a duck whole.
Cooking whole duck in slow cooker makes the meat ideal for versatile use. Slow cooked duck meat can be used in many recipes like in salads with watercress and spinach, in pasta sauce, in stir-fries, in sandwiches, soups, or as taco filling.
Image credit: cookmoresmilemore.wordpress.com/
Video credit: youtube.com/ 
How To Cook Whole Duck