How To Cook Fried Salmon

11 Oct 2011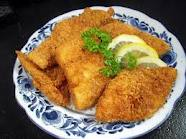 Salmon can be fried in a number of ways and given here is the most basic method to fry salmon. Salmon is a favorite of many and frying it is the easiest way to savor this very nutritious fish.  Salmon can be breaded and fried as well as fried directly after seasoning. Let us see how to make delicious fried salmon.
Directions To Cook Fried Salmon
Thaw and clean salmon fillets.
Prepare the crust by mixing together breadcrumbs, flour, and eggs. Coat the salmon fillets with this mixture.
Take a frying pan, add some oil, and heat it over low flame.
Now, add the coated salmon fillets into the hot oil and fry them.
Turn them over and cook until they turn pink in color.
Remove with a slotted spoon and blot dry on kitchen towels.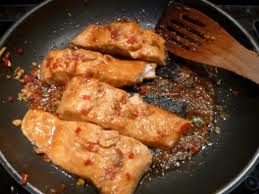 Salmon can be fried without coating them in bread crust. Once the fillets are washed and cleaned, they can be seasoned with salt, pepper, Cajun seasoning, garlic powder, and onion powder. Coat the frying pan with lemon juice and heat it over low heat. Add in the fillets and fry until pink in color and done. This is a healthier option since this method does not use oil for frying.
Tips for Cooking Fried Salmon
Thaw salmon prior to frying.
Season salmon and let stand for few minutes so that the flavors infuse.
If using oil for frying, make sure that the fillets are fried over medium heat.
Cook fried salmon with ease and serve it warm with onions, salads, peppers, and wine. Salmon is rich in omega-3 fatty acids and hence including this in regular diet would be beneficial to health.
Image credit: cookinginsens.wordpress.com/ ; mangoeswithlime.wordpress.com/
How To Cook Fried Salmon