How To Cook Fried Beef

11 Oct 2011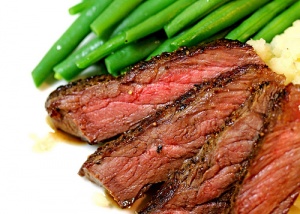 Beef can be fried at home easily, and fried beefsteaks have better texture than when broiled or grilled. The thing to take care of while planning to cook fried beef is to make thinner steaks than those cut for broiling. Thin steaks would cook evenly while being fried.
Directions to Cook Fried Beef
Make thin beefsteaks. Ideally, they can be taken from the ribs or even from sirloin. Bones should be removed and the meat tenderized. Season the meat with pepper, salt, and onion powder.
In a frying pan, add some butter, cooking oil or beef drippings. Heat the pan until the cooking fat sizzles and hisses.                     
Now add in the beefsteaks one or two at a time. Do not let steaks overlap while cooking.
Fry beefsteaks for 15 minutes on each side and continue to turn the steaks while being cooked.
Once the sides brown cover the pan with a lid to facilitate thorough cooking and to keep the steak moist.
Steaks are not done if they are pink in the insides, hence check fried beefsteaks by cutting into it.
Once done, remove the steaks using a slotted spoon onto kitchen towels and blot excess fat.
Place on a warm serving plate and serve with sauce, dips, or gravy.
Tips for Cooking Fried Beef
To cook fried beef at home all that is required is some oil and beef. Try fried beef dishes with these easy tips.
Image credit: 2guys1cook.wordpress.com/; gourmetconnoisseur.wordpress.com/ 
How To Cook Fried Beef