How To Cook Like A Pro On A Boat

24 Mar 2011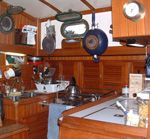 Cook like a pro on a boat if you love both, the boat as well as food. But cooking on a boat is not similar to regular cooking in your usual kitchen. You will be amidst water and devoid of many essential things which you require for cooking. Tight space, unpredictable waves, unstable cooking and limited fuels are some of the factors that impede your cooking. But as I said, if you are an avid food lover, you will try your best to cook delicious foods and enjoy eating them in the moving boat. However, you have to be bit careful and know some important tricks to avoid mess on the boat and cook like a pro. Hereby, are some of the important tips which will make your cooking easier on a boat.
As the boat is constantly moving, so try for a simple recipe which can be cooked quickly. You will take less time to cook and also very few utensils will be involved in cooking. So, cook them quickly, eat and soon clean the left over. This would really help you in enjoying both water and food and you will cook like a pro.
For comfortable cooking on a boat, use maximum space in your kitchen galley. Arrange your kitchen galley in such a way, that it looks spacious as you will always face space crunch on sail boat. Put all your stuffs in a shelf and look whether the fridge is a chest type or not. If it is chest type, use the space above it to place some more stuffs. It would be better if the shelf on the boat galley has proper doors because the constant movement of boat might result into bumping out of the utensils from the shelf. Further, always keep utensils on a magnetized strip so that they don't fall or move and create disturbance in your cooking.
You will have to get away with your regular electrical appliances that you used in your regular kitchen. Here, you have to work on minimum cooking equipment. So, just get the essential and multifunctional equipments on boat, depending on the availability of space on it.
You also need to keep plastic cups, paper towels and paper plates to avoid mess in the sink of your boat galley. Throw away the garbage soon as it would create a mess in your moving boat. So, don't get regular utensils that need to be clean every time you use them.
These were some of the important tips which you should follow if you want to cook like a pro on a boat.
Image Credit: callipygia600.com 
How To Cook Like A Pro On A Boat