Cooking with balls – indeed food for thought
If you thought the world of chefs was getting dull and was loosing out on creativity then here's something that would have you re-thinking. The Testicle Cookbook – Cooking with Balls had most of us reading the news a second time. Yes, just to re-confirm that what the eyessaw and the brain registered is really true. When we are putting on our thinking hats and trying to decide what new dish to come up with, the Serbian chef Ljubomir Erovic has not only thought of but created waves with his new creation. A whole cookbook dedicated to cooking with the balls. Dishes that not only are evidence of his creativity but take us to an unknown land where we have not ventured or may I say not dared to venture. He also hosts the popular "World Testicle Cooking Championship".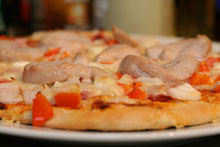 Lamb testicle pizza
Online Publishers YUDU who brings to us the testicular cook. "The tastiest testicles in my opinion probably come from bulls, stallions or ostriches, although other people have their own favourites," says Mr Erovic.He does not restrict himself and goes on to cook with testicles from ostriches, pigs,turkeys and many more. He however, states that "all testicles can be eaten - except human, of course". Are we glad?
Battered testicle fritters
With their aphrodisiac properties (the high testesterone) the testicle dishes are sure going to be a popular and much demanded dish. The cook himself suggests that "the best for aphrodisiac properties are sheep and stallion testicles". From pizza recipes to goulash to the slightly more adventurous variety, the book has it all. So are there any takers for this cookbook? Would you give any of these dishes a try? Are there some adventurous cooks amongst us?
Cooking With Balls – Indeed Food For Thought