How to Cook In Chafing Dishes

4 Jan 2011
Cooking in a chaffing dish has ceratin benefits and its smooth and stylish design has a glamorous and traditional appeal.
A chafing dish is a metal dish mounted above the heating device and is used to cook and keep food warm on the table.
Because food can be kept warm in chafing dishes, cooking in chafing dishes will be very helpful during banquets and big parties for family and friends.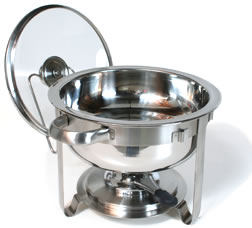 Chafing dishes are simple dishes used from many decades for serving food.
By slightly modifying the basic structure, several varieties of chafing dishes have been developed.
If you are wondering how to cook in chafing dishes then here are a few tips. 
Chafing dishes evenly distribute heat for gently warming the food without letting the food come into direct contact with a flame.
Place the food in the pan and use the heat sources to keep it warm. A water bath between the food and the source of heat will prevent burning through direct flame contact.
There are two types of heat sources available for these they are canned fuel and electric heating.
The canned fuel needs constant monitoring so as to keep the fuel from running out. The containers have fuel holders.
Electric heating chafing dishes have to be plugged in to a socket and they are provided with temperature regulators. A light indicator informs the user about the functioning.
For easy cooking in chafing dishes there are non skid varieties available which are easy to handle.
Some warming trays are designed to include a relatively cooler surface for keeping beverages warm.
Cooking in chafing dishes is slow, so they allow the host to relax and attend to the guests without having to spend hours in the kitchen.
It is very easy to use and cook in a chafing dish and these dishes will no doubt remain in fashion for many more decades to come.
Image Courtesy: www.recipetips.com
How To Cook In Chafing Dishes