How To Make Marzipan Carrots
27 Nov 2010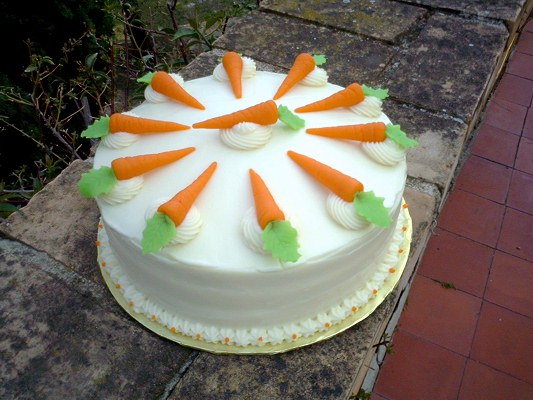 I think making Marzipan carrots is the easiest thing on earth.
Marzipan is nothing but an almond sugar paste, which is used to make edible sculptures. And the experts say that Marzipan is more user friendly than other edible sculpture mediums like fondants. You can simply increase the zeal quotient of your cakes, and bunny cakes by adding Marzipan carrots to them. The Marzipan carrots can be served as a snack or even dessert.
For making Marzipan carrots you will need:
7 oz or 1 roll of marzipan
Red food  and yellow food colouring paste or liquid
Green cake decorating gel (optional)
Powdered sugar
10 parsley sprigs (optional)
Toothpick
Method of preparation
Take out marzipan from the box and knead until it becomes soft and malleable. Dust your hands with powdered sugar or wear gloves on your hands to avoid them from getting sticky.

 
 Make a hole in the centre of the marzipan and put a food coloring to it. Add the color evenly through the marzipan with your hands until you get the favorite color tone, say orange.  Add the coloring little by little because if you drop more color then it is difficult to remove it. And be conscious while using the red coloring because too much of the color will impact the taste of the marzipan.

 
Divide the marzipan into 30 pieces and make balls of the marzipan by rolling them between your palms.

 
Shape the balls to appear like cone.

 
Draw lines on the cones to imitate the texture of a carrot.

 
Add parsley stems to the carrot to give it a realistic look. But if you are using them on a cake, then use green gel to draw stems. Now the marzipans are ready for use.

 
Allow the marzipan carrots to dry overnight and store them in an airtight container. The frozen marzipans can be used for 3 months.
Image courtesy:cakes-for-a-cause.com
How To Make Marzipan Carrots