How To Make Perfect Meatballs

17 Nov 2010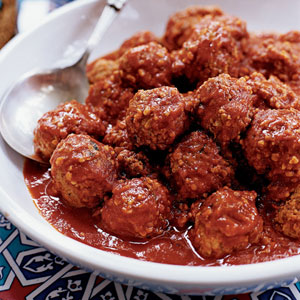 Meatballs are heavenly to taste. But making perfect meatballs require a lot of skill and only experienced chefs can get rolling meatballs. Learn how to make perfect meatballs like a chef and make a special dinner for your family. Follow these few simple steps and tips and you will never mess up a meatball recipe.
Take your minced meat out of the refrigerator and leave it for warming at room temperature. Just allow the meat to get slightly warmed up; it should not come to the room temperature.
Meatballs do not roll perfectly at room temperature, so if the meat is already at room temperature, keep it in the freezer for cooling.
Take the minced meat in a big wide bowl that provides enough room for mixing all ingredients.
Add eggs to the meat and drizzle some Worcestershire sauce.
Add good amount of parmesan cheese, about 8 oz, this is the secret of making perfect meatball.
Sprinkle powdered basil, garlic and some parsley to the meatball ingredients.
Use breadcrumbs and a little milk for blending all ingredients into fine dough like mixture.
Roll the meatballs in between your palms, size can be as desired. Ideally it should be of the size of a golf ball.
Use olive oil for deep frying the balls or they can be directly dipped into a simmering gravy or sauce. The choice is yours.
If you are deep frying, then take them out when they are brown in color or cook in sauce for a couple of hours before serving.
Serve your perfect meatball dish over a bed of rice or spaghetti.
You can now enjoy making perfect meatballs because the dish will come out perfect every time when you follow the simple techniques given above.
Image Courtesy: img4.myrecipes.com
How To Make Perfect Meatballs