How To Make Raclette

27 Oct 2010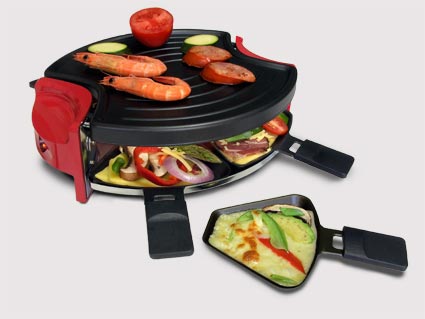 If you desire to learn how to make raclette, you need to know about various ingredients which are required. Raclette is a cheese dish which is served in a special way.  You will need raclette grill or a raclette machine for the purpose, along with knife and serving platters. Other things which you shall need are cheese,  small potatoes, gherkins pickles, pickled onions, ham, salami, bell peppers, onions, shallots, mushrooms, paprika, dried pepper and bundnerfleisch which is air dried beef.
Making raclette involves the following steps –
·You need to first prepare the potatoes for this dish. Potatoes can be roasted or boiled in the oven. Remember that the skin of the potatoes should not be peeled while boiling or peeling them.
·Once, these are roasted and boiled, you have to bring them out from the oven and keep them in a warming tray or a container.
·Tomatoes, shallots, onions and other vegetables which you are using in this dish, need to be sliced and chopped as thinly as possible. However, it is also seen that many people, do not like the idea of serving such thinly sliced vegetables to their guests – if you too, believe in this, you can slice them as per the size you desire to have.
·Other ingredients such as celery, bread, prawns, pineapple and olives can be served in another platter to the guests.
·You will also have to thinly slice salami, ham, bundernerfleisch and also prosciutto in another platter. Keep this platter aside.
·You can now set the table with the food you prepared and start seating your guests.
·Melt the raclette cheese and serve it over the potatoes.
·You can add paprika and ground pepper if you wish.
Preparing the raclette grill and machine is an important process which needs to be done very carefully. There are several grills and traditional raclette machines available and you need to choose the one which you find the most easy to use. Here are some important facts which you need to know before you start making raclette.
Raclette machine:
Any traditional machine is capable of holding half a piece of raclette block. The cheese which you shall be putting inside, shall easily fit onto the base.  As soon as you find the cheese melting, you can scrap it off with the help of raclette.
Raclette grill
This grill has a base, grill and small trays. The grill is usually on the top section and can be used for different grilling purpose of vegetables and meat. The base is normally for warming of the ingredients. You can melt cheese slices in this base and then pour it on the potatoes. 
Image credits - raclette.com.au
How To Make Raclette