How To Make Cheap And Easy Meals In A Rice Cooker?

23 Oct 2010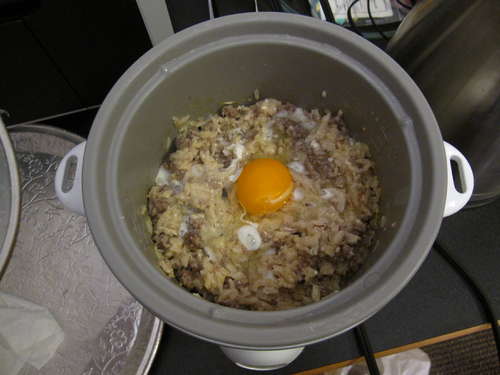 You have volunteered to deliver for large-scale cooking for some social get-together and you are on the look out for ways to deliver your services, judicious on cost, time and energy. Well, your mission is almost accomplished, if you have a rice cooker at your disposal, as you will get to know from this reading, on how to make cheap and easy meals in a rice cooker.

Rice Cookers come in some standard shapes and sizes with extra fittings, and you could choose yours depending on the need and versatility of use. There are many advantages in using a rice-cooker in comparison to a cooking pot. You save gas, because a rice cooker cooks faster with its pressure-techniques ; save water : little water for steaming purpose as the cooker doesn't allow steam to escape and, save time : cooking time is less  due to the technique of pressure-cooking.
So now lets get on to making cheap and easy meals in a rice cooker:

•    Steamed Rice – Add variety to it

 Rice cookers are chiefly used for steaming rice. The ratio of the rice to the quantity of water used depends on the rice cooker, about which you could look up the manual provided along with the product. Once the rice is rinsed and the water drained, you could transfer the rice into the cooking vessel of the cooker and then add water as recommended, and press the cook button.

Now, if you want variety in it, for instance make chicken rice, then after about 15 minutes of cooking of the rice, you could add slices of marinated chicken, ginger julienne, few chopped vegetables, with oyster sauce and leave it to cook.

The veggies along with the chicken slices will become deliciously tender and you just have to grab a bowl to serve chicken rice with soy sauce –  indeed, the Chinese way of making cheap and easy meals in a rice cooker.

•    A "Pot" full of potatoes

Potatoes as an 'omnipresent', all-time-favorite dish for all age-groups, available round-the-year, can be cooked in assorted ways using a rice cooker ; be it mashed potatoes or potato fries. Boiling is easy with rice cookers and for fries, you simply peel the potatoes, cut it into a desired shape and fry it in oil for 5 minutes and then steam it in the cooker. Boiled potatoes provide a base for myriad recipes, and fried and steamed ones again steal the spotlight in many a lip-smacking delicacy.

•    Dumplings

Vegetable or meat dumplings get that extra tinge of flavor when soaked in the gravy or stew they get cooked in. On the stove top, this would be pretty time consuming. So resort to your rice cooker and let your dumplings steam and puff with the pride of being the 'flavor-full' wrap-up of your dish, apart from being one of the cheap and easy meals made in a rice cooker

•    "Fish" for better Or make it "egg-ilicious"

Fish(tuna) atop your steamed rice. You could also add fish to your rice at the time of steaming, with the necessary spices. And just a couple of minutes before the cooking time is over, you could  garnish with mint-leaves. You will have the aroma of both the fish and mint seeping through fish rice.

As for the egg, the same procedure can be followed, with the beaten egg plopped down on the top layer, when the rice is almost done.

•    Risotto in a rice cooker

The rice –cooker's version of a risotto, spells that you use the measure of water to cook the rice, along with a cup of creamy soup added to it. Your chopped veggies can be added in the beginning or 15 minutes before the rice is ready (if you feel that the vegetables are too tender to get steamed for long) and then you put the lid on. You may not get the replica of risotto but something that is equally delicious topped by a quick-cooking technique.

•    Mexican rice

Onions, capsicum, corns, tomato sauce, garlic mix  it all with your stir-fried rice in olive oil  and then allowed to steam in the rice cooker. You get the typical Mexican delicacy in a matter of minutes, which in a cooking pot would  take minimum an hour or so.  Mexican rice is a simple solution when you are exploring ways on how to make cheap and easy meals in a rice cooker.
The tips above on how to make cheap and easy meals in a rice cooker will help stretch the boundaries of your culinary expertise, when you discover that rice cookers can be such handy, 'just-in-time' appliances, ever eager to deliver economically.
Photo courtesy: instructables.com 
How To Make Cheap And Easy Meals In A Rice Cooker?