How To Cook Stuffing In A Crock Pot?
18 Oct 2010
Cooking stuffing takes hours – yes, we all know that.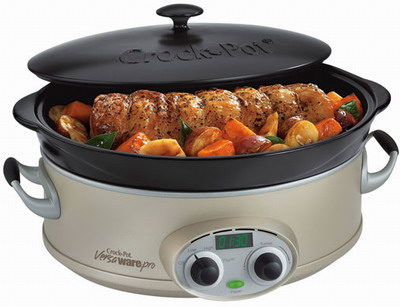 But, knowing how to cook stuffing in a crock pot gives you two of the most needed advantages, especially if you are a working woman – firstly, it saves a whole lot of time and secondly, if gives you the ability and flexibility to multi-task. With a crock pot, you can simply place the ingredients in it, plug it in and turn it on and your dish is ready in some time.
Things Needed:
For cooking stuffing in a crock pot, you need the following things:

•    Crock Pot

•    Margarine

•    Butter – 2 Tablespoons

•    Pan cornbread, pre-made, 8 inch by 8 inch - 1 Piece

•    Dried Bread – 8 Slices

•    Eggs – 4

•    Onion – 1 medium-sized, finely chopped

•    Celery – ½ cup, finely chopped

•    Poultry Seasoning – 1 Teaspoon

•    Black Pepper – ½ Teaspoon

•    Cream of Chicken Soup – 2 Cans

•    Knife

•    Wooden Spoon

•    Mixing Bowl
Method:
Cooking stuffing in a crock pot is easy and simple. Just follow these few steps and invoke the most delicious, aromatic stuffing for your dinner:
•    Take the crock pot and grease its inner walls with margarine. Ensure that all sides and the bottom of the pot are greased well. This greasing acts as a layer that prevents the stuffing from sticking to the pot's walls or get burn.

•    Take the pre-made cornbread and using your hands, crumble it into small pieces in the crock pot.

•    Then, take the dried bread slices and cut them into small cubes (about half-an-inch). Add them to the crock pot.

•    Take a bowl and break the eggs in it. Add the finely chopped onion and celery to it. Sprinkle some poultry seasoning, black pepper and the cream of chicken soup to the bowl. Mix well with the wooden spoon.

•    Now, add this mixture to the crock pot and mix thoroughly. The eggs will bind the stuffing together and at the same time, add more taste and flavor to the stuffing.

•    Place the butter (make thin slices of it if you prefer) and place on the top of this mixture.

•    Cover the crock pot with the lid and switch it on.

•    Cook slowly for about 3-4 hours on low heat. Slow cooking gives the best result, retaining all the flavors and softness of your dishes. However, if you are a little pressed with time, you can slow cook the stuffing for two hours on high.
Thus, cooking stuffing in a crock pot is an effortless, hassle-free way of serving this delicious recipe to your guests. It not only saves time, while retaining all the flavors and aromas, it also does not heat your kitchen up during the hot summer days. Therefore, try this practical way of cooking stuffing at home and enjoy the delectable result that you will always get out of it.
Photo Courtesy: slowcookerrecipes.org.uk
How To Cook Stuffing In A Crock Pot?