How To Tie A Turkey Before Cooking

15 Oct 2010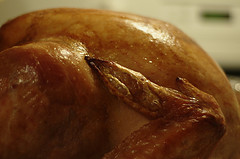 Trussing or tying a turkey before cooking is done for a neater presentation of this stunningly delicious dish. Tying also ensures that the wings and legs are cooked as evenly as the whole body. Usually the wings and legs are pressed against the body and tied together before leaving it in a microwave or oven for cooking. Though tying turkey is not very common but when turkey is served a special occasion like Thanksgiving Day or Christmas, it is tied before cooking for presenting the dish in style for friends and family. Tying turkey is neither difficult not time consuming, all one needs is kitchen cords or strings. And of course one should know how to put a cord. Let's learn how to tie a turkey before cooking.  
There are three steps involved in tying a turkey before cooking.
Step 1
Keep materials ready for trying.
You cannot keep the turkey for a longer period without cooking as bacterial action starts off very soon. Keep a pair of scissors and kitchen cord of 5 feet length ready to tying. 
                                                                                                                                              
Step 2

Preparing Turkey for Tying
It is crucial that a turkey is prepared for cooking before it is tied. Once tied it cannot be stuffed. So brine it or stuff it before tying.                                                                              

                                                                                                                                              Step 3
Tying A Turkey                                                                                                                        
When you have prepared the turkey and its ready to go into fire. Bring your tying materials and start tying. Hold the turkey's legs or drumstick and lay them over the turkey's body. Now use the strings to secure the body and drumsticks together. Do a few rounds of looping and tie a knot. Now that the body and legs are tied, its time to tie the wings. Loop the string onto the wings of turkey and secure them to the body. Again tie the whole turkey and wings together with a few rounds of strings winding and tie a knot so that the wings don't open up. Tie a couple of knots at the end and tuck the tail of string in the skin. Ensure that string is tangled tightly or there will be chances that the wings open up. Once cooked with the open wings your whole purpose of tying the turkey before cooking will be lost.                                                

                                                                                                                                            

Cook your turkey the way you want and you are ready to enjoy your golden brown, juicy and moist turkey.                                                                                                                        

                                                                                                                                              
Image Courtesy: flickr.com
How To Tie A Turkey Before Cooking