How To Thicken Soup?

8 Oct 2010
There is your soup simmering but while stirring you find it's a bit too on the watery side. If you want your soup to have a little less than creamy consistency so as to make it a good substitute for a meal, there are many ways to thicken soup.
Soups are an 'anyday anytime' treat and they have taken different avatars to meet diet-fads, health-fads and even detox-regimens.

Now you want to know how to thicken soup so that when you feel bogged down by the day's heavy work, you just need a dish of thick soup to rejuvenate your system in no time and also feel like have taken in a wholesome meal. Here are a few ways to thicken your soup:

•    Vegetable Puree  

This is by far one of the most popular methods to thicken soups. Scoop out the vegetables when the soup is simmering and put it in a blender or food processor to make a puree of it. Add the puree to the simmering soup and stir it continuously. In a couple of minutes, the soup will thicken. One point to remember is, while using vegetable purees, make sure to add extra vegetables to the soup at the time of preparation. If you do not want to play spoilsport on the vegetables bobbing up and down in the soup, then mashed boiled potatoes are an immediate alternative. You simply add the mashed potatoes to the soup and stir it.

•    Flour-paste

Take some quantity of flour depending upon the quantity of soup. The rule of thumb is that for one cup of soup you need to add 1 – 1 ½ teaspoons of flour. So take the required quantity of flour and mix it with double the quantity of milk, water or cold stock. Mix it to form a paste. Add the paste to the simmering soup and stir it slowly for about 10 minutes.

Roux (a mixture of wheat flour and clarified butter) can also be added, which acts as a good thickening agent for the soup.

•    Dairy products

Rich cream or condensed milk can also be added for thickening your soup. The consistency of the soup will become thicker, and also, you will  get a rich flavor of cream 'n' milk seeping through the aroma of your soup. This is an ideal choice for thickening soups especially made for children and can serve well as a fulsome snack.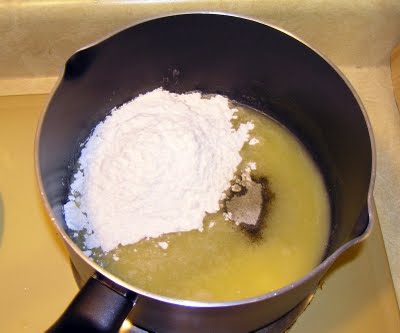 •    Thickening agents (cornstarch and tapioca)

Apart from the home-made thickening agents, there are also the soup-specific thickening agents such as cornstarch and tapioca.

Use cornstarch, in 1: 2 ratio with the liquid it is going to be mixed with (vegetable stock, water, milk). While mixing, make sure that there are no suspended particles of cornstarch, as these might tend to coalesce and surface when the soup is boiling. So add the mixture slowly and stir continuously. The soup will thicken in 5 – 10 minutes time.

Tapioca (quick-cooking)(the granular form) is a 'quick' thickener for many stews and meat-soups. You can add quick-cooking tapioca to the soup, if you  do not mind the pieces of the vegetable afloat on your soup. Another way to use the quick-cooking tapioca is to grind it a blender and use it in the powdered form.

•    Bread crumbs

Dried breads(whole-wheat) or white breads can be ground in a food-processor and added to the simmering soup. The crumbs simply dissolve into the soup apart from imparting a dried-baked grain flavor. Bread crumbs are one easy way out on how to thicken soups.

•    Eggs   

The whole egg or the yolk alone can be used to thicken soups if you are not mindful about the flavor of eggs blending with the soup. But one thing to keep in mind is you should  not  bring the soup and egg mixture to a boil too soon. You should beat the egg slightly and, quickly mix it in the hot soup. Allow the soup to simmer, while the egg-liquid gels with the liquid of the soup.
Serving soup on a platter couldn't have been easier as you are now equipped with techniques on how to thicken soup and get many varietals with the thickened meal-like liquid, satiating your appetite in a fulsome way.
Photo courtesy :foodmall.org, themarketingmama.com 

 
How To Thicken Soup?