How to make Beef Stroganoff
18 Aug 2010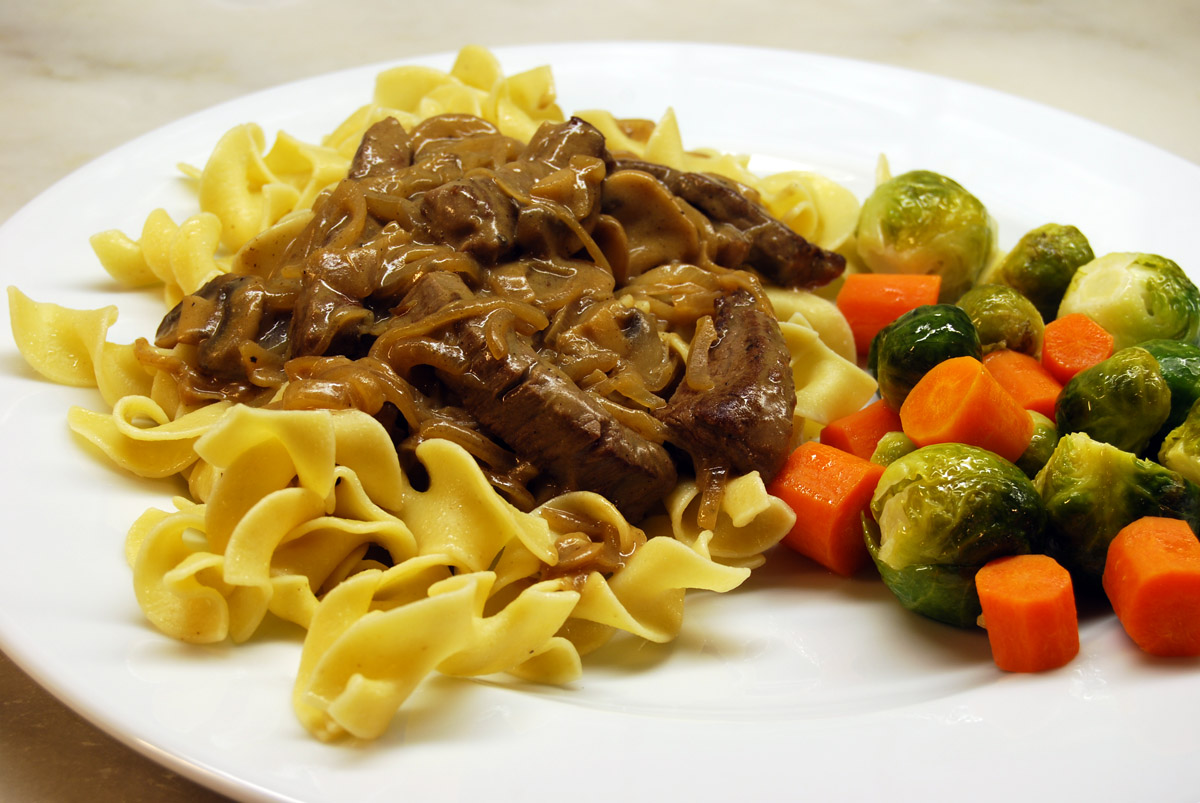 A classic Russian dish which has withstood the test of time, Beef Stroganoff is a very popular dish, which rose to acclaim chiefly due to its ease of being produced in large quantities as a basic food-service dish. Also known as Beef Stroganov in some places, the dish is said to be named in Russian tradition, after Count Pavel Stroganov, a noted 19th century gourmet as well as a friend of Alexander III. The first mention of the dish, however, was in Elena Molokhovets' 1861 classic Russian cookbook recipe for 'Govjadina po-strogonovski, gorchitseju' 'Beef à la Stroganov, with mustard' which involved lightly floured beef cubes (not strips) sautéed, sauced with prepared mustard and bouillon, and finished with a small amount of sour cream.
A rich dish particularly served over rice, noodles or French fries, Beef Stroganoff is a dish of sautéed pieces of beef served in a sauce with sour cream. 
Here are the basic steps to make a Beef Stroganoff:
• Melt butter in a skillet, and brown beef strips or ground beef in them. Add salt and pepper, and keep aside.
• Fry some onions in the same skillet, them keep aside too.
• Melt some more butter in the same skillet, and sauté some mushrooms in it. Add some tarragon and nutmeg to the mushrooms, for added flavor. 
• Put in some sour cream with the mushrooms, and mix well. Add the beef and onions back to the pan, and add some salt and pepper to it.
• Serve on a bed of rice or pasta.
There are several regional variations of the classic Beef Stroganoff:
• In the UK and Australia, beef stroganoff is served as a dish with a creamy white wine style recipe, whereas more 'authentic' stroganoffs are often red stews with a scoop of sour cream separately served on top.
• Beef stroganoff is also very popular in Brazil and Portugal, under the name 'estrogonofe' or 'Strogonoff'. The Brazilian variant includes diced beef or strips of beef with tomato sauce, onions, mushrooms and heavy whipping cream.
• It is also often made with strips of chicken breast rather than beef, also called Fricassee in some restaurants in Brazil. It is commonly served with crisp potato straws, as in Russia, but with the addition of white rice.
• Stroganoff is also popular in the Nordic countries. In Sweden, a common variant is sausage stroganoff, which uses the local falukorv sausage as a substitute for the beef.
Here is a basic recipe of Beef Stroganoff:
Ingredients:
 1/3c. butter
 2 lb. round or sirloin, cut in strips
 1/2 c. flour
 1 tsp. Salt
 3/4 tsp. Accent
 1/8 tsp. pepper
 1/2 c. chopped onions
 1 sm. clove garlic, minced
 1 tbsp. Worcestershire sauce
1 10 1/2-oz. can tomato soup
1 sm. can tomato paste
1 c. sour cream
1 c. sliced mushrooms
2 tbsp. cooking sherry (opt.)
How to make Beef Stroganoff
Melt the butter in skillet.
Coat meat with flour, salt, Accent and pepper.
Add meat, onions and garlic to skillet; brown over medium heat.
Combine remaining ingredients.
After meat is brown, stir in combined ingredients and cook over low heat until warm.
Serve over whipped potatoes, noodles or rice.
For more recipes and variations of Beef Stroganoff, click here.                                                                                                            
Image Credit: Hungry Again
How To Make Beef Stroganoff