How To Cook Frozen Chicken Wings On The Grill
16 Aug 2010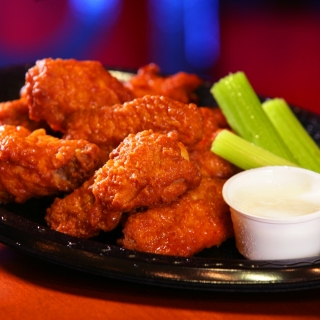 Cooking and savoring the delectable grilled chicken wings is a pure epicurean pleasure. But what do you do if fresh chicken wings are not available, can you cook frozen  chicken wings on the grill, and how do you ensure that they taste as good as the fresh ones? To get an answer to all such quandaries that you might have, refer to these really useful tips that I have developed through my years of experience. 
• Thaw with the marinade: This is the trick that will ensure that the chicken wings are as flavorful and supple as the fresh ones. Just open bag of frozen chicken wings and add your favorite marinade recipe right into the bag, jiggle the bag a little to coat the wings evenly and place it in the refrigerator. This way the marinades will not only add flavor to the wings, but also help in keeping them moist through out the thawing process.
• Thaw properly: Do not rush the thawing process, refrain from using the speed defrost option of your microwave. The chicken wings will take around 48hrs to thaw in the refrigerator; though it seems like a long wait, this is necessary to guarantee supple and tender grilled chicken wings. Never cook under-thawed chicken wings; this will make the dish dry and rubbery.
• Keep the grill ready: Always pre-heat the grill and keep it ready at 300oF to 350oF before placing the chicken wings over the grates. 
• Cooking the chicken wings: Since the wings cook easily, it is recommended to cook them over indirect heat. Many prefer to cover my grates with aluminum foil before heading any further. However, I like the beautiful grill marks on the wings; hence, I cover only part of the grill with foil. Then, when cooking the wings, I first place them direct over the open grates for few seconds each side to mark them, and immediately transfer them over the covered portion of the grill. Do not overcook the wings; keep checking them, the wings will not take more that 10 to 15 mins to cook. Once the wings get a nice golden color check the internal temperature, if it is above 175oF remove them from the grill and serve.
• The finishing trick: What I have found through the years is that frozen wings are better served in the sloppy style rather than dry. To make sloppy style chicken wings, retain the marinade you used for the wings. Cook the marinade well (preferably simmer it for at least 20 mins). Then just 5 mins before removing the chicken wings from the grill, dip them in the simmering sauce and grill till done. 
So this is how you make almost authentic grilled chicken wings from frozen wings. Follow these tips and I am sure your guests will never be able to make out the difference between the fresh and frozen ones ever! 
Image credits: www.thenewmilforddeli.com
How To Cook Frozen Chicken Wings On The Grill