How to Make Beer Batter?
5 Aug 2010
If you are someone who's simply in love with beer, then, it would certainly pay off to learn, how to make beer batter. And, once you know how to make beer batter, you can have it for a versatile usage than for mere drinking. Beer batter is a mixture made of flour, beer, egg and spices and it is used for coating fishes and meats to be fried. Beer batter is a light coating which is full of flavor. So, learn now, how to make beer batter and cook delicious fried items with chicken, fishes, vegetables and shrimps. The beer batter when used as the coating, it gives your fried fish or crispy onion rings a tangy beer flavor. And, it's superbly simple to make, as all you have to do is, stir the flour and your favorite brew together with a dash of few assorted spices and the mixture will create a golden crispy and crunchy crust for your meat, fish or veggie.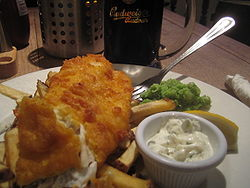 Ingredients for making beer batter
For making beer batter, you will need an egg, a cup of beer, 1 1/8 teaspoon of baking powder, a cup of flour, 2 teaspoons of salt, 3/4 teaspoon of pepper, a teaspoon of powdered garlic, half a teaspoon of powdered onion, 1 teaspoon of cayenne pepper and some flour. 
Instructions on how to make beer batter
Beat the egg – Your first step in making beer batter would be to whip the egg, until, it doesn't feel stringy anymore. 
Mix the spices – Now, add salt, powdered onion and garlic, cayenne pepper and beer in a bowl and blend the beer mixture thoroughly. 
Beer batter – To the beer mixture, add some flour and beat the mixture until it becomes a smooth paste. 
This readies your beer batter! Now, if you want to test how to use it for frying, then, here are the steps. Read on – 
Rinse – Lightly rinse the raw foods you would be frying with the beer batter. This holds true, even in case of onion rings. The concept is to make the beer batter adhere well to the food. Water will only help the batter stick to the food, which, you want to fry.
Dip and drop – Now, coat the food lightly with some flour and then, dip it into the beer batter. Then, drop the food items in batches, into a deep frying pan with simmering hot cooking oil. Deep fry your veggie, fish or meat for the required time and once done, enjoy them hot and crispy with a tangy dip.
Picture Source: notecook.com
How To Make Beer Batter?