How to make grape juice?– Squeeze the Flavor

8 Jul 2010
On a hot summer day, or after a workout, you will thank a gallon to fortitude, if you are served fresh fruit juice, especially that of grapes, which are juicy in the truest sense and well, attractive to look at too…making you to wonder  how to make grape juice?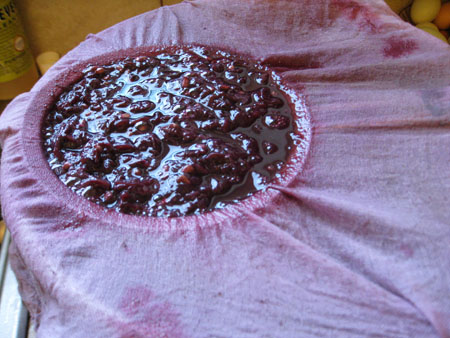 For replenishing summer treats or as an integral nutritive to your larder, home –made grape –juices are more than a keep-sake treasury.  They are the 'fillers'  and appropriate 'in-betweens' during snack time or meal time.
How to make grape juice, in a few simple steps, will simply increase your thirst for the exotic juicy flavor for the fruit.
Here is how:
•    Keep your grapes ready. Fresh concord grapes are preferable. To have a rough idea about the quantity and the juice extract that can be made, the rule of thumb is that a pound of grapes will yield a little less than half-a-cup of juice.

•    Prepare your grapes for juicing, by washing them thoroughly in a colander. You could even soak them in water for some time to ensure that they are thoroughly clean.
•    After the cleaning process, remove the grapes from their stem. Make sure to pick out the unripe   or over-ripe ones.
•    Take a potato masher and mash the grapes with that. You can watch the juice drip from below. If you have a large quantity of grapes, you may have to do this process in batches.

•    The next step in how to make grape juice is to cook the grape juice. The juice from the potato masher is taken and transferred to a cooking pot, which is kept on medium heat.

•    Stir the juice occasionally, so that the 'syrup' doesn't stick to the bottom of the pot. Allow the juice to simmer for 10 minutes.

•    Once the juice is cooked, take a sieve or cheese cloth and strain the juice into another large vessel. Repeat the process to make sure that there is no sediment left in the juice.

•    Pour the juice into containers and refrigerate. The juice will be thick but you can dilute it with water before drinking.
With a juicy recipe on how to make grape juice, you have a way to beat the summer-heat through home-made freshness filled in a grape juice.

Photo Courtesy : Google
How To Make Grape Juice?– Squeeze The Flavor