How to Make Homemade Italian Candy
23 Jun 2010
Of all the caramelle – Italian for candies, torrone is the candy that has always intrigued me; this sticky, nougat like white fluffy Italian candy is arguably one of the oldest known sweets from Italy. I love this so much that I keep making it and sharing it with my friends….on many occasions people ask me how to make this delectable Homemade Italian candy. Tired of repeating myself over and again (not that I don't like the attention) I decided to share it with everyone. So read on guys.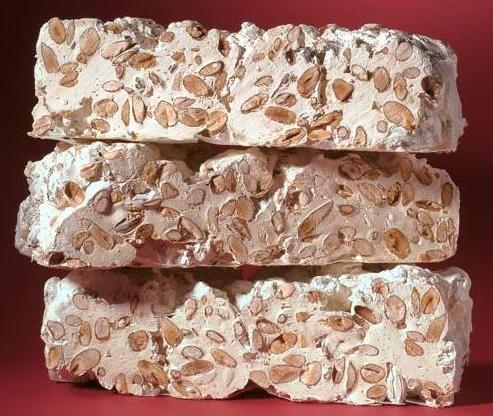 Ingredients: 
3 cups  - Blanched nuts (I use a mix of Almonds, Hazelnuts and Pine nuts, you can use whatever you like)
2 cups  - Sugar
1 cup - Corn Syrup 
½ cup - Honey
1 tbsp - Vanilla essence (you can use lemon, orange, or any other flavor that you like)
½ tsp - Salt
2# - Egg whites
¼ cup – Softened Butter
¼ cup - water
Toast the nuts in an oven till lightly browned. 
In heavy, deep saucepan, add sugar, corn syrup, honey, salt, and 1/4 cup water and stir over medium heat, until sugar is dissolved. 
Stop stirring but continue cooking, until the syrup reaches hard ball stage, i.e a small drop forms a hard ball in cold water. Take ¼ quantity of the syrup aside and continue to cook the rest of the syrup.
Stiffly beat egg whites until stiff peaks are formed, and then gradually pour the hot syrup that had reached hard ball stage. Continue to beat at high speed, until the mixture is stiff enough to hold its shape.
Continue to cook the rest of the syrup till a small amount in cold water forms brittle threads.
Now gradually pour this syrup over the meringue just made, the meringue will become soft again. Continue beating at high speed, so that the mixture is stiff and holds its shape again. 
Mix the falvorings and butter, and continue beating until the mixture is thickened again. This might take about 5 minutes and stir in toasted nuts with a wooden spoon.
Turn mixture into a greased pan lined with wafer paper. Smoothen the top with a spatula, cover the top with wafer paper and refrigerate overnight or until firm.
Once firm, remove from the pan, and peel off the wafer paper. With sharp knife, cut into bite size pieces and serve.
This is the basic torrone recipe, there are innumerable variations available. though you might not get the perfect texture at the first go, with some practice you would be soon cooking out scrumptious delights for your family and friends.
How To Make Homemade Italian Candy