How to Make My Own Flavor of Jelly Beans
25 May 2010
I have heard many people asking how to make my own flavor of  jelly beans?  Then my viewpoint is that you can invent jelly beans in your favorite flavor. It can be easily prepared by using package gelatin dessert mix. These treats can be prepared at home during any time of the year. Here is how you can go about it: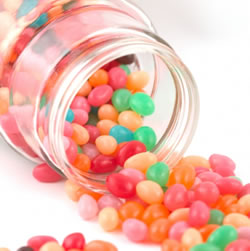 1.    Spray some cooking spray inside the mold of jelly bean and sprinkle some cornstarch thereafter. Tap the mold by turning the mold upside down in order to brush off extra cornstarch.
2.    Add boiling water to two different flavors of gelatin and stir them till the gelatin is dissolved. 
3.    Now pour this mix of gelatin into the jelly bean mold. Let the centers harden by refrigerating them for at least 30 minutes.
4.  Tip the jelly beans in a bowl by inverting mold.
5.     Sprinkle superfine sugar over jelly beans and stir them so that jelly beans are evenly covered with it. Store in airtight jar and refrigerate. 
How To Make My Own Flavor Of Jelly Beans