How To Make Peanut Butter Eggs?
26 Apr 2010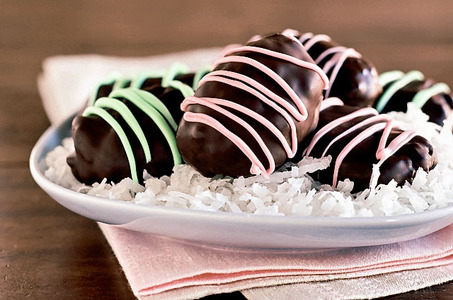 Peanut Butter Eggs is one of the most popular dishes of all times and a favorite with kids and grown-up people all over the world. Peanut Butter Eggs are mostly made during Easter time in most households in America, Europe as well as Asia. 
Ingredients required - peanut butter, confectioners sugar, chocolate chips, cheese cream or marsh-mellow cream and vanilla extracts. 
Directions - 
1) To make Peanut Butter Eggs, mix the peanut butter with marsh-mellow cream or cheese cream in a bowl with the vanilla. 
2) Then add confectioners sugar to it and whip the whole mixture. 
3) Make small egg shaped balls and dip them in molten chocolate.
4) Put the egg balls into the refrigerator and cool them. 
5) Serve with colorful candies. 
Tips- Make lovely patterns on the Peanut Butter Eggs with icing sugar and sprinkles to make them look more attractive. 
Image credit - blog.syracuse
How To Make Peanut Butter Eggs?