How To Clean Coffeepot

7 Apr 2011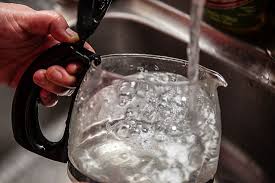 Most of us love coffee but very few of us know, how to clean coffeepot and thus we often end up having stale and bland coffee due to impurities and stain deposited on the interiors of coffeepot. Cleaning coffeepot is very simple and it takes few minutes, if done regularly.  So, go through the following steps to know how to clean coffeepot, effortlessly in few minutes.
Steps To Clean Coffeepot
The first step would be unplugging the coffee pot and opening its lid. Be sure you don't start the cleaning process until the coffeepot has been unplugged, else you might end up in trouble.
Take the coffeepot and drop the lemon pieces into it.
Put two tablespoons of salt into the coffeepot. Salt acts as a scrubbing agent and it smoothly removes the stubborn coffee residues on the wall and bottom of the coffeepot.
Add two cups of ice cubes and one cup of water in the coffeepot.
Close the lid and hold it firmly with both your hands.
Shake the coffeepot so that the material inside it swirls completely in all directions. It would be advisable to move it in circular motion, so that ice cubes along with other ingredients slides easily on the surface as well as bottom of the coffeepot.
While shaking, make sure that the ice cubes take some salt particle and reaches every corner of the coffeepot. Continue with this step for few minutes but take care that you shake the coffeepot gently; else it might develop some scratch marks.
As the ice melts, open the lid and remove the leftover items in it. If any stain or residues are still left in the coffeepot, repeat the above steps otherwise rinse it with cold water.
In cleaning coffeepot, it's important to rinse it carefully so that every bit of salt and lemon juices gets removed from the coffeepot.
Your coffeepot is now clean and ready for making a strong cup of coffee.
Thus, the above-mentioned guide on how to clean coffeepot will make your grungy coffee pot clean and new. Do the cleaning regularly to prepare a great coffee whose strong aroma would be more than enough to pull you out from the bed in morning.  
Image Credit: wikihow
How To Clean Coffeepot