How To Use An Enamel Coffee Pot?

30 Mar 2011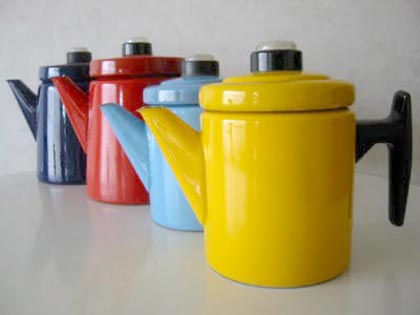 Enamel coffee pots are defined as elegant, classic and legendary antique piece which is used for brewing coffee. The best part of using an antique piece like enamel coffee pots is that it keeps coffee hot at one constant temperature for incredible long hours. One amicable look at coffee pot of this kind simply reminds you of Greek and roman emperor's time and transports you age old series of legends. Many historical as well as mythological movies depicts the liberal use of enamel coffee pots. You can use enamel coffee pots even in a no electricity zone and it will ensure completely fresh warm sip of coffee for long standing hours. Seen as one of the best bet for those adventure seekers and good for camping as well, enamel coffee pots can be taken anywhere you wish to. Talking of its classification, then it comes in two distinct forms, one is percolators, and other one is manual drip brewers. Let us give brief glance on how to use enamel coffee makers for a jaunty trip.
Enamel Coffee Pots
There are two types of enamel coffee pots, drip brewers and percolators.
Usage of Drip Brewers
They are quite simple and manageable in usage. You only need to follow some of the basic techniques and you are ready for fresh sip.
Pour half length water in the enamel coffee pot. Make sure you don't end up pouring too much water, which may shoot down the real taste and aroma of coffee beans.
Heat the enamel coffee pot with simmering water.
Once you are done with it, take the pot of from heating top and place on wooden floor.
You must now cork the opening of coffee pot with a good filter holder.
Now place a fine porous filter above the filter holder and make sure it doesn't dribble down.
Now you should add coffee beans steadily into the filter, take your time as it may require some good dissolving time in the hot pot water you heated formerly.
Lastly pour sufficient water to immerse the coffee grounds and cover the pot for some time.
You are ready for a nice evening coffee.
Percolator Enamel Coffee Pot Usage
Percolator coffee pots are bit cumbersome in usage, but will yield you a wonderful coffee taste.
Warm some water in the enamel pot.
Take a percolator jar and put some coffee beans in it.
Place the percolator basket with beans in the pot with hot water.
Heat for 15 mins and turn off the stove.
Take the percolator out and pour the coffee into coffee mugs.
These were description of enamel coffee pot usage. Relish and enjoy!
Image credit: modernfindings
How To Use An Enamel Coffee Pot?