How To Make Coconut Cream From Fresh Coconuts
28 Sep 2010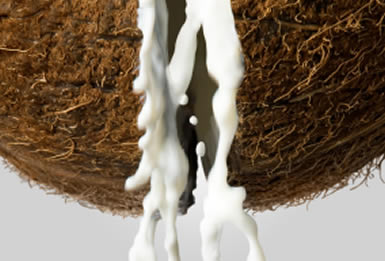 You shouldn't confuse coconut milk or water fresh from the coconut with coconut cream. Coconut cream is defined as the thick, creamy milk that is extracted in the first pressing of the white flesh of the coconut. Alternately, coconut cream is also used to define a thick, rich coconut flavored cream or milk made by boiling shredded coconut and milk and cream together. It is really easy to make your own coconut cream at home. 
To make coconut cream, you need to cover some freshly grated coconut with coconut water and cream or milk. Bring slowly to a boil, stirring often. Cover with a lid and let cool to room temperature. Sieve or strain the mixture through a cheese cloth to get smooth milk, squeezing the grated coconut to obtain the maximum amount of extract possible. To make the milk thicker, you can boil it down until it reaches the required consistency. 
The remaining coconut flesh may be air-dryed and/or toasted for other uses. Refrigerate the coconut cream and use within 5 days. 
You can also make coconut cream from canned or packaged flaked coconut.
Use coconut cream in savory dishes, desserts, and drinks. Coconut cream is commonly used in various desserts, as well as Thai or South Indian dishes and curries. 
Pic courtesy: http://www.coconuts.net
How To Make Coconut Cream From Fresh Coconuts