How To Melt Chocolate For Coating Candies

26 Mar 2011
Chocolate can be melted in different ways to make candies as well as coat fruits. You are free to  use any variety for this purpose. Dark, semi-sweet and white it does not matter in the least. Read on for the details of melting chocolate correctly in order to surprise your kids with yummy chocolatey candies & fruits. Get going now...
Make sure to melt the chocolate evenly. It is important to chop the bars so that it can melt  at even rate. Bite sized chocolate bars  do not require any chopping though. But it is mandatory for a  large & extra large bar. Use clean hands while breaking the chocolate into smaller chunks. Place the chopped chocolate in a container and proceed as below.
Microwaving the chocolate is the fastest way of melting it.  Remember to stir the mixture every 15 minutes though and keep at it until the ingredient becomes smooth. Check out the knowhow by watching the video below.
Using double boiler is the simplest method of melting. Transfer the top pan to a hot pad once the chocolate reaches smooth a consistency. Here's a practical lesson for you.
Place the chocolate in a pan and start melting it on a low flame to avoid burning it. Stir the mixture constantly and follow the instructions below.
When you plan to melt a large amount of chocolate, a slow cooker is the ideal option. This is how you should go about it.
What are you waiting for now? Start coating and please your kids. 
Chocolate Covered Strawberries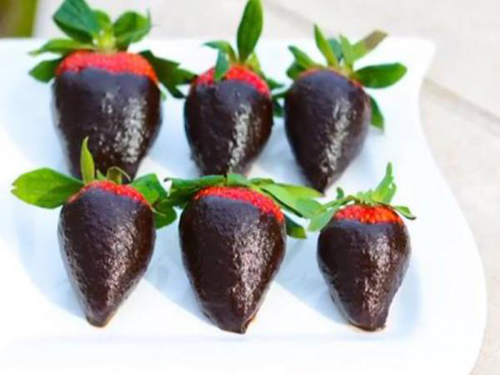 Image credits: wikipedia 
How To Melt Chocolate For Coating Candies