What Kinds Of Things Should Be Put Out With A Chocolate Fountain
24 Mar 2011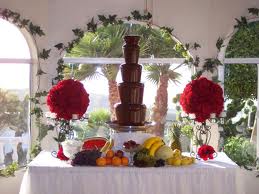 There are a number of things to be put out with chocolate fountain, making the your party and treat enjoyable and much tastier. The idea of a chocolate fountain is to allow the melted chocolate keep circulating among three to two tier dishes, which gimmicks that of a fountain bringing the fantasy world to real life.
A number of things that go well with chocolate fountain will surely make your party to end with great and yummy desserts. There are a number of ways you can get your chocolate fountain either as the centerpiece or in the corner, drawing eyes to all sides of the party. Traditionally, this is good to leave the chocolate fountain with dishes that can be dipped to eat with a chocolate coating, skewers and scoops to hold the chocolate dips.
You need not do anything for the melting chocolate by itself will pull you towards is for the aroma. Here are some of the food items and things with chocolate fountain, which can be used to decorate the table.
Cakes: A cake crumbles with time, but you can do a number of things while serving cakes as a dip for chocolate. The best way to serve your cake is to cut them into small pieces of squares, and leave a number of spoons or scoops, which could be used to pick up one or more pieces, and dress them in the running chocolate. This is because the crumbles from the cake can clog the pores through which the chocolate fountain comes.
Fruits: Fruits are the best side dishers for decorating the chocolate fountain table. Fill the table with cut or full strawberries, apples diced into cubes and soaked in sugar syrup, orange slices, banana chunks, pear wedges, dried figs and peaches. Use the skewers to pick the fruit pieces and dip them into yummy chocolate to make yummy choco desserts.
Marshmellows and Julips are some of the best tasting chocolate dips that you can leave them stuck on the skewers and serve on the plates which can be picked up to dip in the chocolate fountain for being served on your  platter.
Wafers and caramels are some of the other things with chocolate fountain that you will be finding on the table, and they are one of the best pairings that when dipped in the chocolate fountain and placed on top of the scoop of ice cream makes this a real hmm…yummy dish?
Now is that we have seen some of the things to put out with chocolate fountain, if you did come across some weird and an unusual idea, then let me know. 
Image Credit: barchefcompany.com
What Kinds Of Things Should Be Put Out With A Chocolate Fountain