What Are The Different Types Of Swiss Chocolates

10 Feb 2011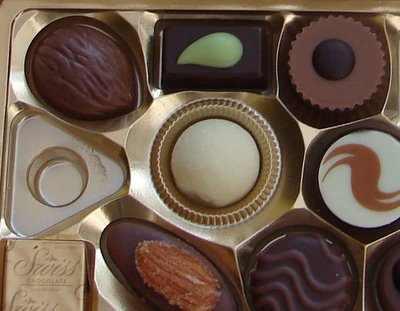 Would you care about the various types of Swiss chocolates, if you were presented with a 221 meters long Swiss chocolate in front of you? Yes, well, the Gods of Chocolate at Switzerland broke away from all the different types of Swiss Chocolate and created a really big bar for records. But in case you are more interested in knowing about the various types of Swiss chocolates rather than staring at it, read on…
The main profession of manufacturing Swiss chocolates began in 1819. Switzerland is currently the leading Chocolate manufacturer as well the highest consumer of Chocolates!
Though it is rumored that there are over hundreds of kinds of Swiss chocolates, the Chocolatiers of Switzerland have always maintained the sanctity of the following types of Swiss Chocolates:
Milk Chocolate- Initially, Henri Nestle' brought about the yummy Milk chocolate but as a chocolate drink. Later, using condensed milk and Chocolate solids, Daniel Peter made the first Milk Chocolate . This variety of chocolate among the various types of Swiss chocolates became very famous as Chocolate bars, Truffles, Baking chips etc.
Dark Chocolate- This most exquisite type of Swiss Chocolate was introduced by the Frey Brothers. The chief characteristic of the Dark chocolate is that it melts most smoothly and can be flavoured easily with oranges, herbs and fragrances. This contains about 40%-60% of Cocoa solids and has many known health benefits. The flavonoid antioxidants present in Dark Chocolates help the heart beat be happy! On the healthier side of the various types of Swiss chocolates, it contains 35% Cocoa solids, 85% of the composition, in fact, is cocoa solids, and 15% of yummy chocolate liqueur.
White chocolate- This is one the tastier ones out of the types of Swiss Chocolates. It is made with Cocoa butter, milk solids and vanilla essence. In fact due to its composition, many a chocolatiers don't even consider it a chocolate! Usually this White Swiss Chocolate is found in bars or pudding, mixed with fruits or chocolate chips. The various uses of this chocolate are swirled about while making pretzel dips, or while baking and cooking. It contains 20% Cocoa butter, 14% milk solids, 3.5% fat and 55% nutritive carbs.
Chocolate Truffles- There are a lot of various types of Swiss chocolate truffles that are in the market today. Chocolate kisses, bon-bons are usually sad rip-offs of real Swiss chocolate truffles.  Milk chocolates are usually used to cover truffles with fillings of mint, orange essence, buttery caramel, raspberries, Irish cream, and Nuts.
The main reason behind the success story of the various types of Swiss Chocolates perhaps is that they use only the best in their products. This means that the coco beans, the vanilla, solids are all imported. The only thing they are rumored to use which is their own is Milk. The Swiss cows are known for this and they know how to use it too!
In case you are wondering how to choose out of the various types of Swiss Chocolates available, here are a few good brands- Valrhona, Felchin, Lindt & Sprungli ,Scharffen Berger , Cacoa Berry , Callebaut  and Guittard.
Image Credit- scriptorsenex.blogspot.com, stephanielevy.blogspot.com
What Are The Different Types Of Swiss Chocolates