Chicken Cacciatore - "my Way"
I made this for dinner a few nights ago.  It was the first time I had made this in many years-so it is a "new" version but very classical in flavour.  Chicken Cacciatore is a perfect fall or winter meal.  You can make this ahead of time for guests and just finish up while everyone sips a glass of a nice dry white wine like the one you use in the cacciatore.-mary-anne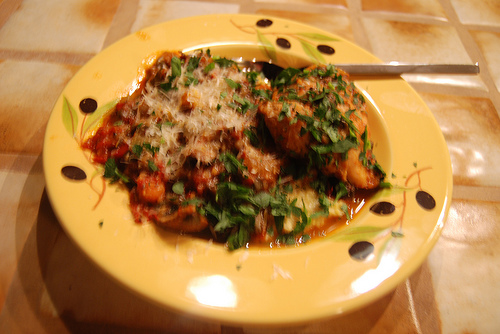 CHICKEN CACCIATORE ("Chicken in the style of hunters") is one of the most popular Northern Italian recipes.  To me it is true comfort food, perfect for a fall meal. Perhaps it originally contained pheasant, duck, wild boar or hare, and most likely porcini mushrooms which are available in the fall in Italy.  I usually use some sliced crimini and a few soaked dried porcini to give that earthiness to the cacciatore.
VARIATIONS:
 Parpadelle al Cinghiale Cacciatore  - (wild boar) in place of the chicken served with parpadelle is simply heavenly.  Here in California wild boar is offered at many specialty meat purveyors.

Vegetarian, use garbanzo beans (chana, chickpea, chloe, ceci beans) in place of chicken, or a combination of any favourite vegetables and use vegetable broth in place of chicken broth.  Serve with rice or nan.
Brown Chicken in olive oilCHICKEN CACCIATORE
SERVES 6
Ingredients
• 4 chicken thighs (I remove skin)
• 2 chicken breasts (skinless cut across)
• 1 teaspoons salt, plus more to taste
• 1 teaspoon freshly ground black pepper, plus more to taste
• 1/2 cup all purpose flour, for dredging
• 2 - 3 tablespoons olive oil
• 1 large yellow bell pepper, cut into ¾" pieces
• 1 onion, ½" pieces
• 3/4 cup of carrots, 1" slices
• ½ cup celery, sliced ½"
• 2/3 cup sliced mushrooms-optional (sliced crimini + soaked dry porcini)
• 3 garlic cloves, finely minced
• 3/4 cup dry white wine
• 1 ( 28-ounce) can diced tomatoes with juice*
• 3/4 cup fat-free chicken broth
• 3 tablespoons drained capers
• 3  tablespoons, minced flat leaf Italian parsley (1 tablespoon reserved for garnish)
• A few sprinkles of chile flakes to taste
• 1 1/2 teaspoons dried oregano leaves (1 tablespoon if using fresh)
• 1/3 cup coarsely chopped fresh basil leaves
• For garnish –Parmigiano-Reggiano Cheese, freshly grated
* I like to use fresh heirloom tomatoes cut into 1/3" dice.  They will need to be cooked down.                   I use 3-4# fresh tomatoes.  Heirloom tomatoes give such a wonderful flavor to the cacciatore.

Directions
Add salt and pepper to flour.  Place in zip-lock bag; shake chicken pieces to lightly coat.
In a large heavy sauté pan like Le Crousset, heat the oil over a medium-high flame. Place the chicken pieces in the pan and sauté just until brown, about 5-6 minutes per side.
 Transfer the chicken to a plate and set aside. Add the onion to the same pan and caramelize, then add the garlic, stir and simmer, then add the bell pepper, onion, carrots, celery, and mushrooms simmering a little while, about 5-6 minutes until veggies are a little tender.
Add the wine and simmer until reduced by half, about 2 - 3 minutes. Add the tomatoes with their juice, broth, capers, chile flakes, and oregano.  Simmer to cook down liquid.
Place the chicken pieces in the pan and turn them to coat in the sauce. Bring the sauce to a simmer. Continue simmering over medium-low heat until the chicken is just cooked through, about 30 minutes for the breast pieces, and 20 minutes for the thighs.
Place the chicken on a platter. If necessary, boil the sauce until it thickens slightly, about 3 minutes.  Spoon the sauce over the chicken, then sprinkle with reserved parsley, grate fresh Parmigiano-Reggiano cheese on top, and serve with creamy polenta.  (See recipe below)

Creamy Polenta
Ingredients
• 1  cup polenta
• 1 1/2 cups half and half
• 3 fresh thyme sprigs
• 2 cloves fresh garlic, peeled and smashed
• 1  cup chicken stock
• 1  tablespoon unsalted butter
• 1/4 cup freshly grated Parmigiano-Reggiano
• Kosher salt and freshly ground black pepper
Directions
In a large pot add half and half along with thyme and garlic. Bring to a simmer then shut off the heat to let the half and half steep. Let it steep for at least 30 minutes.
Once steeped, remove the thyme and garlic. Bring the half and half back up to a simmer and gradually pour in the polental in a slow, steady stream, whisking constantly.
 Once the half and half  is completely absorbed, lower the heat and set a timer for 20 minutes. Continue cooking, whisking often, until the timer goes off, add chicken stock if the mixture is too thick (it should be like creamy mashed potatoes). Once the timer goes off the polenta should be thick and smooth. Finish with butter, grated Parmigiano-Reggiano and salt and pepper. source-mary-anne (shanti)photos taken with Nikon D80