How To Shred Chicken?
13 Aug 2010
While most of us know how to mince or pound chicken, not all of us are aware of how to shred chicken. Chicken in its various forms – minced, pounded, chopped and shredded - brings along with it such an amazing spread of recipes that it remains an all-time favorite for almost all of us. You can add them to sandwiches, burgers, pastas, hotdogs and so on.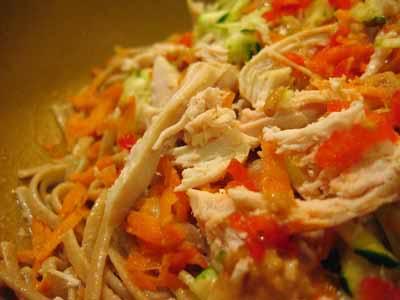 Shredding chicken is a very simple process. Yet, the range of exclusive dish that it brings is unimaginable. You can shred both raw as well as cooked chicken. Just follow these simple steps and open up a world of new recipes for yourself:
Shredding Raw Chicken:
•    Wash the chicken well so that it is completely clean. Take a few paper towels and pat them dry.
•    Take the chicken pieces and skin them well. For shredded chicken, it is best to use skinless chicken. This not only reduces the fat content, it also makes the dish taste better. At the same time, using skinned chicken helps the chicken meat to absorb the flavor of the spices and marinades more easily.
•    Now, remove all the bones and retain only the meat portions.
•    Take a sharp knife and chop them into thin, long strips of desired thickness.
•    Your shredded chicken is ready.
You can use raw shredded chicken strips in recipes like chicken casseroles, Spanish mix grills, in chicken noodles (after stir frying them a little) and so on.
Shredding Cooked Chicken:
You can also shred cooked chicken and add them to different recipes to give them an added advantage of deliciousness. By cooked meat, we mean chicken portions (breasts or pieces) that are boiled for some time before being shredded. For this, you can follow the steps below: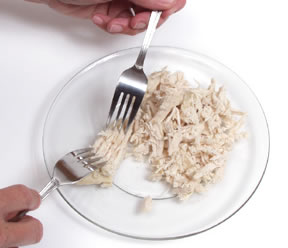 •    In case you are using normal chicken pieces, then the first step is to de-bone them. So, remove all the bones from the cooked meat and keep only the fleshy parts.
•    Now, lay the chicken on a flat surface (a chopper, or a plate or even the cooking slab).
•    You can now pull the cooked meat into long threads with your hands. This is the best and easiest method of doing it.
However, if you do not want to use your hands, then take two forks (with their backs facing each other) and poke it in the center of the meat. Now, pull the forks gently away, so that the chicken breaks into small strips.
•    Repeat till the whole chicken is shredded.
You have your cooked shredded chicken ready. You can simply add them to salads, fried rice, soups, sandwiches, burgers and so on and enjoy the great taste that each offer.
Thus, shredding chicken is a really simple process and whenever your recipe calls for some small slices or strips of chicken, using this is the best solution. Just go on shredding chicken and adding them to your dishes and enjoy the wonderful range of dishes that you can create using them.
Photo Courtesy: media.photobucket.com and recipetips.com
How To Shred Chicken?